By Ria Taitt, newsday.co.tt
Tuesday, July 24 2007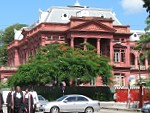 'It means that former MPs, such as Ralph Maraj and Ramesh Lawrence Maharaj, would receive, at age 55, a gratuity of 10 percent of their gross salary.'
Once again, the financial perks of all members of Parliament (MPs) have been greatly enhanced.
An amendment to the Retiring Allowances (Legislative Service) Act which was quietly, quickly and unanimously passed in the House of Representatives last Friday, doubles the gratuity payment to which each MP would be entitled.

MPs receive a gratuity and a pension at the end of their service. The gratuity is a lump sum, and it has now been increased from ten percent of the gross salary received over the period of parliamentary service to 20 per cent.
Furthermore, the amendment passed on Friday removes the cap which had been placed on the sum of the gratuity that any MP could receive. Previously the quantum could not exceed the equivalent of three years salary.
Now there is no ceiling. Whatever the 20 percent of the gross salary of the MP comes up to — even if it amounts to $1M — then the MP is entitled to receive that. A minister currently receives around $30,000, which means that after one term he would be entitled around $360,000 in gratuity. Most MPs have served at least two full (five-year) terms, with veterans like Ken Valley and Keith Rowley serving more time.
At the time most of the MPs entered in 1991 and 1995, a ministerial salary was an estimated $12,000 to $15,000 monthly which would mean that the 20 per cent gratuity computed for the early periods of service would be smaller. But for those who served longer in the Parliament, their overall gratuity would be higher.
The measure however would not apply to the two longest serving MPs — Basdeo Panday or Patrick Manning — who receive prime ministerial pensions. The amendment was tabled as an Amendment to the Finance Act, which contained amendments to about 12 different pieces of legislation. While the Salaries Review Commission (SRC) determines salaries and all prerequisites such as travelling and housing, pensions fall under the Retiring Allowance Act.
The Parliament had previously sought the advice of the SRC when it sent recommendations of the House Committee for improved pension benefits to the SRC some three years ago.
Full Article : newsday.co.tt