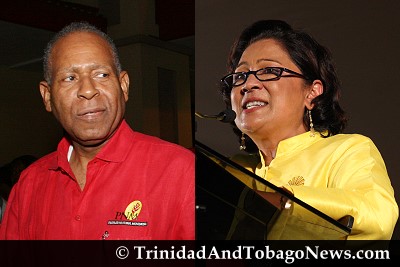 Obama Advisor Deported
AMERICAN citizen Henry Bernard Campbell, who was part of the political strategy team which propelled Barack Obama to the White House, was deported from this country early yesterday morning, hours after arriving at Piarco International Airport from the US.
American strategist for UNC election campaign blocked at airport
Obama man sent back
UNC Political Leader Kamla Persad-Bissessar says the deportation of Bernie Campbell—the former campaign strategist of Barack Obama—is an international disgrace that will affect diplomatic relations between T&T and the US.

Kamla: Aint no stopping us
She was referring to the deportation of US political strategist Henry Bernard Campbell as an attempt by the PNM to stall the UNCs election campaign. But she said the team is more inspired and filled with greater resolve.
Joseph denies giving order
Rather, Mr Bernard Campbell, a citizen of the United States of America, was denied entry into Trinidad and Tobago in accordance with section 8 (1) (q) of the Immigration Act, Chapter 18: 01. This states: Any person who from information or advice which, in the opinion of the minister is reliable information or advice, is likely to be an undesirable inhabitant of, or visitor to Trinidad and Tobago.
National Security denies deportation order
The statement noted that Campbell was denied entry in accordance with Section 8(1) of the Immigration Act Chapter 18 (01).
US Embassy wants answers
The American Embassy in T&T is concerned about the grounds on which Bernie Campbell, American political consultant was turned around at the Piarco International Airport on Thursday.
…US Embassy seeking answer
The United States Embassy in Port of Spain has requested information from the Government on the deportation of US citizen Bernie Campbell.
Kamla slams PNM for 'abuse of power'
UNC strategist denied entry into country
Opposition Leader Kamla Persad-Bissessar said last night that American Airlines was fined for flying American strategist Bernie Campbell to Trinidad and Tobago.
Talk about Calder Hart
CRIME, corruption, Calder Hart and the Uff Report are some of the things Prime Minister Patrick Manning should be telling the country during the election campaign, UNC chairman Jack Warner last night told a large crowd at a rally at Cumuto recreation ground, Rochard Douglas Road in Barrackpore.
PNM vs United 'National' Charge
Dick-Forde: New Udecott board being screened
Screening of members for a new Udecott board is already in train, according to Housing Minister, Emily Dick-Forde.
Chamber forms Debate Commission
THE Trinidad and Tobago Chamber of Industry and Commerce yesterday announced the formation of TT Debates Commission whose purpose is to strengthen the local democratic process by staging debates on matters of national importance which are in the public interest so as to better inform the electorate in their political decisions.
More than 400 constables promoted
No Politics in police promotions
National Security Minister Martin Joseph said yesterdays promotion of close to 500 police officers was not an act of "politicking" by the PNM.
TTTI Intl knocks election advertising $$$
STATE spending promoting the work of Government ministries is potentially corrupt, chairman of the Trinidad and Tobago Transparency Institute, Victor Hart, argued this week as he called the practice, "unacceptable in a properly functioning democracy."
Tabaquite: Give us candidate
Ramesh's supporters stage protest outside Rienzi…
Vasant, Ramesh fight on
As the coalition of opposition forces takes shape, loyalists of two incumbent UNC MPs—Ramesh Lawrence Maharaj and Vasant Bharath—have mounted protests to have them contest their respective seats.
COP fund-raising by 'text, Paypal
CONRAD Aleong, COPs head of fund-raising, is urging supporters to donate to the party using the novel medium of texting by cell-phone, he told Newsday yesterday.
'No concerns over UNC/COP crowds'
Imbert: I'll retain my seat again
Horticultural society knocks balisier destruction
As the election campaigning heightens, the red of the Balisier flower can be seen at every PNM campaign stop.
Rowley 'awaiting PNM green light'
PROSPECTIVE Diego Martin West candidate Dr Keith Rowley said yesterday he was awaiting authorisation from the People's National Movement's Central Executive about his candidacy.
Rowley does not want to speak
DR KEITH ROWLEY, who has been selected by the PNM screening committee to contest the Diego Martin West seat in the May 24 snap general election, is not desirous of speaking on the front-line during the PNMs general election campaign, sources close to him this week revealed.
Woeful wooing of the voters
Worst of all, however, has been the transparent racial stereotyping, especially from the Peoples National Movement platform, with Diego Martin North-East MP Colm Imbert going so far as to sing lines from chutney songs referring to rum-drinking. Mr Imberts explanation that he was merely stating that the PNM platform had no alcoholics, apart from being beyond his knowledge, was a perfect example of gutter politics.
Campaign degenerating
The General Election campaign to decide which political party will govern and guide Trinidad and Tobago for the next five years appears to be degenerating to an unfortunate low, with candidates particularly on the PNM platforms making inappropriate remarks.
United opposition can win on May 24
EBC urges nomination papers from hopefuls
PSAs Duke fights back in resignation row