By Raffique Shah
April 18, 2010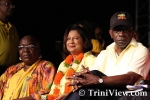 I DON'T know if the two main opposition parties in Trinidad, Tobago's TOP, and the trade unions and NGOs, will forge an alliance that is attractive to the electorate. As I write this column, top officials from the United National Congress (UNC) and the Congress of the People (COP) have held several meetings.

Spokespersons for the unity drive expressed confidence they will arrive at an agreement, but I am unimpressed by the tone of their pronouncements.
Diehard UNC supporters believe their party does not need the COP or any other entity to defeat the People's National Movement (PNM). They seem convinced that because Kamla Persad-Bissessar trounced Basdeo Panday in the internal party elections, she will likewise overwhelm the PNM. And in the COP there are some who believe that having won substantial votes in 2007 the party can do better this time around.
The PNM may be down, but only the foolish would count it out. Even though the party failed to curb the excesses of the government, one must never underestimate the 'elections machine' that the late Dr Williams built. Mr Manning has put his party at severe risk in what I consider uncalled-for elections. But in its darkest hour the PNM has the capacity to retain a substantial number of votes.
In 1986, the PNM was almost wiped off the political map, suffering a 33-3 defeat at the hands of a barely-united NAR. Still, it polled 183,635 votes (32 per cent of votes cast) to the NAR's 380,000. In 1995, when the UNC formed the government for the first time, it did so with fewer votes than the PNM (189,000 to the PNM's 232,000). By 2000, when the UNC was at its zenith, a mere 45,000 votes separated the two parties.
Only a fool would take it for granted that, based on the Government's unpopularity, the UNC by itself is guaranteed a resounding victory over the PNM. And any 'accommodation' that looks shaky from the start would have a tough time convincing an already sceptical electorate to vote for it.
At this early stage of the campaign, both parties have drawn large crowds at their meetings, with the UNC probably having the edge in terms of numbers. But that is no indication of an impending defeat for the PNM. It is also why the UNC needs other elements that are united in their rejection of PNM governance, and not the other way round.
The notion that 'we have 15 seats, they have none' means nothing when they face the PNM juggernaut. Unless the UNC is prepared to give a little to gain more, to sacrifice some of its seats in order to become attractive outside its base, it may well end up snatching defeat out of the jaws of victory. More than that, some of those seeking nomination on the opposition slate could well prove to be millstones that will be rejected by those who will determine which party wins the elections-people who put country first, who have no party allegiances.
It is a fact that PNM campaign leaders are worried as they have not been for years. Their leader did not consult with them before taking the plunge. Or if he did, it was to speak with party hacks who would have told him what he wanted to hear: Boss, you will lick them up any time! The real foot soldiers would have told him otherwise, had he bothered to consult with them. But it's his call, he would insist. And if it comes to pass, it would be his fall-and theirs.
The opposition will also need to make commitments on fundamental issues that affect citizens, offer workable solutions to seemingly intractable problems the PNM failed to solve. It is one thing to say, 'Crime was lower when we were in government.' It's stupid to suggest, 'Elect us and we'll bring crime under control in short order.'
We are looking at two different eras. What worked in 1998 would hardly apply today. There are many more criminals now who are better-armed and more determined to wreak havoc on the populace. It is also naive to suggest that 'giving the police the resources they need' is a solution to high crime.
While the police are hampered by archaic systems-dilapidated stations, ledgers instead of computers, obsolete communications equipment-successive governments have equipped them with new fleets of vehicles. But when crimes are reported, they invariably complain they don't have vehicles to dispatch officers to investigate.
How will a new government deal with illegal arms and narcotics secreted in police stations? Or crime exhibits like cocaine and money disappearing from others? Clearly, rogue elements in uniforms are part of the problem. Unless a new government can first clean up the Service, platform promises to reduce crime will remain hollow.
Ms Bissessar may also want to consider installing 2,000 properly networked computers in police stations instead of distributing 20,000 taxpayer-funded computers to children to be used as play stations. During the UNC's term in office, it was Kamla, as Education Minister, who introduced secondary school places for all who sat the SEA examination. That misguided concept, which the PNM endorsed and extended to tertiary education, has led to shameful standards among 'graduates' who are worse off than primary school non-graduates of yesteryear.