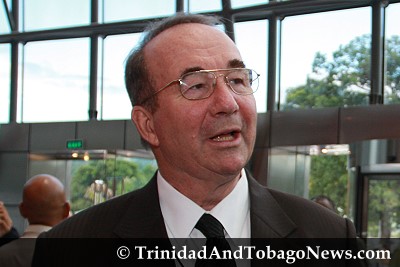 Former UDeCOTT chairman flies in
Former UDeCOTT executive chairman Calder Hart was asked to return to Trinidad and Tobago by the State to answer questions related to his testimony during the Uff Commission of Enquiry.
Hart plays 'peekaboo' in Cascade with media
Former Urban Development Corporation of T&T (Udecott) executive chairman, Calder Hart, peeped out at members of the media through the sliding glass doors of his front porch at his Cascade home around 1 pm yesterday.
Calder Hart is 'hanging tough'
FORMER executive chairman of the Urban Development Corporation (Udecott) Calder Hart has been described by Udecott's former deputy chairman Dr Krishna Bahadoorsingh as "hanging tough" in the face of adversity.

***
April 11, 2010
Hart back in T&T
Former executive chairman of the Urban Development Corporation of T&T (Udecott) John Calder Hart is back. Thirty five days after Hart resigned and fled the country, he quietly returned on American Airlines flight 1819 around 9.40 pm last night. He was in the company of fired Udecott chairman, Krishna Bahadoorsingh.
Psychic: He'll make public appearance this week
Psychic Winston Ragoo last night said Hart will make a public appearance this week as the PNM kicks off its campaign.
Manning met Sunway four times
PRIME MINISTER Patrick Manning met four times at his office with officials representing the Malaysian firm Sunway Construction Bhd, the company to which the award of a $368 million contract by Udecott has been linked to former Udecott executive chairman Calder Hart in an ongoing police investigation.