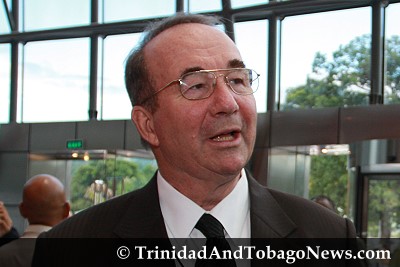 COP BETTER THAN CoP
SINCE LAST year, Acting Commissioner of Police James Philbert was asked by two successive Acting Directors of Public Prosecutions to investigate Prime Minister Patrick Manning, Finance Minister Karen Nunez-Tesheira and former Udecott executive chairman Calder Hart, yet to date Philbert's probes into all of these matters have not been completed.
PM returns home quietly, flies out again today
Criminal probe launched in September—Jeremie
Some 24-hours after new Director of Public Prosecutions (DPP) Roger Gaspard ordered a police probe into allegations of wrongdoing by former executive chairman of the Urban Development Corporation of T&T (Udecott) Calder Hart, Attorney General John Jeremie said a criminal investigation into Hart began since last year.

Criminal probe of Udecott
Jeremie did not explain why it only took Udecott's court action to trigger the Lindquist probe. He also offered no explanation for utterances by members of the Cabinet who defended Udecott since last September and who appear to have been ignorant of the Lindquist probe.
Lindquist goes after Hart
AG: Criminal probe launched since September
A CRIMINAL probe was quietly launched last September against Calder Hart, the former executive chairman of the Urban Development Corporation of Trinidad and Tobago (UDeCOTT).
Police team gears up for probe in Malaysia
A team of police officers, assigned to the Anti-Corruption and Investigations Bureau, are preparing to travel to Malaysia to probe allegations against former executive chairman of Udecott Calder Hart.
One heartbroken lady
EMILY Gaynor Dick-Forde, the Minister of Planning, Housing and the Environment, said yesterday she was preparing a statement to explain her comments which were carried as the front page lead story in yesterday's Express.
Minister: Allegations affecting T&T's soul
Trinidad and Tobago's soul has been affected by allegations against UDeCOTT, former chairman Calder Hart and the Government.
Dick-Forde: Hart attacks brand Govt as corrupt
'Hounding' as vice and virtue
As a self-described 'Christian with a big C', Housing Minister Emily Gaynor Dick-Forde should be familiar with Jesus' words in Matthew 7:3, 'Why do you see the speck in your neighbour's eye, but do not notice the log in your own eye?' Nonetheless, this Minister, who played a key role in the false allegations made against Diego Martin West MP Keith Rowley with respect to the Cleaver Heights project, has accused the media and the people of Trinidad and Tobago of 'hounding' former UDeCOTT chairman Calder Hart out of office.
That's insulting, Ms Dick-Forde
If anyone has to feel "ashamed" about anything, it is Minister Emily Dick-Forde and her Cabinet colleagues for the manner they have handled the issues surrounding Udecott and the allegations of corruption with regard to the award of contracts and the procurement of goods and services. Not once in the more than three to four years of allegations, contract failures, obvious mismanagement of projects has this Government come forward with a statement of concern for the integrity of the expenditure of billions of dollars, the patrimony of this and future generations. Instead, all the country has had are staunch and on occasion quite illogical defences of Calder Hart and Udecott without a substantiating statement based on government oversight of this state agency.
Government's shame
WITH the greatest irony, we must "agree" with Planning Minister Emily Dick-Forde's remarks to reporters during the Senate tea-break on Tuesday that circumstances of the resignation of Udecott head, Calder Hart, are a cause of great shame. However our reasons are startlingly different to those of Dick-Forde.
JCC writes DPP on Hart
The Joint Consultative Council (JCC) has written to Director of Public Prosecutions (DPP) Roger Gaspard, asking that he probe whether Calder Hart committed the crime of perjury by lying under oath at the Commission of Enquiry into The Urban Development Corporation of T&T Ltd (UDeCOTT) and the construction industry.
'I don't want Hart's job'
Dr Krishna Bahadoorsingh, deputy chairman of the Urban Development Corporation of Trinidad and Tobago (UDeCOTT) said he does not want the job of executive chairman.
Enill: Let DPP, CoP do their jobs
PEOPLE'S National Movement party chairman Conrad Enill has said his party does not have the capacity to verify whether or not the documents purporting to show a family link between former UDeCOTT chairman Calder Hart and a company to which UDeCOTT gave a multi-million-dollar contract are authentic.
'NIPDEC board must quit too'
The Trinidad and Tobago Transparency Institute (TTTI) has called for the resignations of the remaining directors of the Urban Development Corporation of Trinidad and Tobago (UDeCOTT) as well as those of the National Insurance Property Development Company (NIPDEC).
The women behind the men
Mrs Calder Hart, who left the country with her husband and child, reportedly removed a lot of furniture and possibly some other things too, has much to answer for, but she has been the queen of silence.