By Nalinee Seelal
April 08, 2010 – newsday.co.tt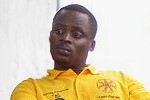 Chairman of the Local Chapter of Disabled People International, (DPI), George Daniel succumbed to an unknown illness yesterday morning at the Eric Williams Medical Sciences Complex.
Daniel, 45, of Santa Cruz, was reportedly ailing for some time. However, details were not divulged.

The news of Daniel's death quickly spread throughout the disabled community in the Caribbean and North America.
On its official website Disabled Peoples International North America and the Caribbean, a newsflash ran, "It is with deep regret that we announce the death of Chairman of DPI, and NAC George Daniel on March 7,2010."
Daniel, in July 2007, won a historic constitutional motion against the judicial arm of the State for violating his constitutional right to liberty. He was represented by attorney Anand Ramlogan. Daniel had filed his constitutional motion on March 8, 2005, in which he claimed he was unable to access the Hall of Justice, Port-of-Spain, because of the long flight of steps at the front of the building, which made it difficult for persons in wheelchairs to be pulled up the steps backwards.
Daniel had argued that the Judiciary had taken far too long to rectify the problem despite several complaints.
The landmark decision was handed down by High Court Judge Justice Nolan Bereaux at the San Fernando High Court. Speaking to Newsday from his holiday home in Canada yesterday Ramlogan said he was saddened by the loss. "George was a man of integrity. A role model for citizens because he was an inspiration to so many, and he cared for his fellowman despite his disability. I considered him a personal friend and an inspiration to my life. I will miss him," he said.
http://www.newsday.co.tt/news/0,118677.html
***
George Daniel passes on – guardian.co.tt
George Daniel, the man who in 2007 fought the State from his wheelchair for violating his constitutional right to liberty and won a victory for the disabled people, has died. Daniel, former president of the local chapter of Disabled Peoples' International (DPI) died at Eric Williams Medical Sciences Complex in Mt Hope, yesterday morning. Current DPI president Michael Fraser confirmed that Daniel passed away shortly after 8 am at the hospital where he had been warded for some time. Fraser praised Daniel's contribution to the disabled, saying it could never be measured.
George Daniel dies at 45
FORMER president of the Trinidad and Tobago branch of Disabled People International (DPI), and Express Individual of the Year for 2003, George Daniel, has died at the age of 45.