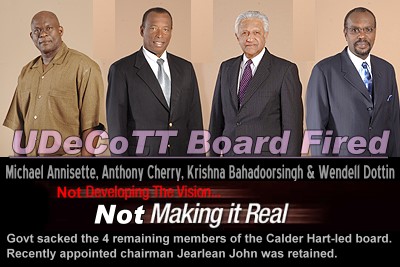 Udecott board fired
The Government is giving itself two weeks to reconstitute the board of directors of State-owned Urban Development Corporation of T&T (Udecott). Well-placed sources made this revelation last night, after the Government sacked the four remaining members of the old Calder Hart-led board.
AG to UDeCOTT board: You're fired
In a statement to the Senate yesterday, Attorney General John Jeremie announced that there would be a 'reconstituted' UDeCOTT board-save for its recently appointed chairman Jearlean John- and thanked the outgoing members for their services.

Cherry: Sacking of Udecott board reckless and unfair
At least one member of the Urban Development Corporation of Trinidad and Tobago (Udecott) board says it appears to be a political act to replace all board members except for chairman Jearlean John. Anthony Cherry yesterday described the announcement by Attorney General John Jeremie to change the remaining four Udecott board members as "reckless" and "unfair."
Ex-director defends axed UDeCOTT board: We did our best
Two former directors of the Urban Development Corporation of Trinidad and Tobago, Anthony Cherry and Wendell Dottin, said yesterday their resignations will not affect their lives.
Bye bye Board
AFTER much public disgust at the Udecott Board and its former head Calder Hart, we are relieved that the Uff Report of the Commission of Inquiry into Udecott was yesterday laid in the Senate by Attorney-General John Jeremie.
Sources: Hart to return Monday
Former Udecott executive chairman Calder Hart is expected to return to the country next Monday. This was confirmed yesterday by legal sources close to Hart.
ACIB working with Malaysian cops
ACTING Commissioner of Police James Philbert said yesterday officers of the Anti-Corruption Investigations Bureau (ACIB) are working closely with Interpol officers in Malaysia as part of ongoing investigations into Udecott.
Ramesh on Uff Commission findings: Worse than O'Halloran scandal
Tabaquite MP Ramesh Lawrence Maharaj says he is not surprised by the findings of the Uff Commission.
'…Minister must go too'
THE Uff report has revealed nothing new and held no surprises, says president of the Joint Consultative Council (JCC) Winston Riley.
PM has a case to answer too
It may not have been 'the Calder Hart inquiry', as the Works and Transport Minister once protested too much in Parliament, but the former UDeCOTT executive chairman emerges as the unquestionable superhero in the drama of public-sector misbehaviour unfolded by the Uff report.
Kamla: Too little, too late
PRIME Minister Patrick Manning should resign and call a general election immediately due to Government's refusal to act on allegations against the Urban Development Corporation of Trinidad and Tobago (UDeCOTT), its former executive chairman Calder Hart and the company's board based on evidence long in the public domain, advised Opposition Leader Kamla Persad-Bissessar.
Fresh probe into Cleaver Heights
Government is to conduct another forensic investigation into the Cleaver Heights housing project.
…Rowley: They're out to get me
This is now the fourth investigation in Cleaver Heights Housing Project, Diego Martin West MP Dr Keith Rowley stated yesterday. Rowley said probes were done by forensic accountants Gerry McCaffrey, Robert Lindquist, the Uff Commission of Enquiry and all came to the same conclusion thing – that no money was stolen.
Uff: Chinese not better than locals
THERE is little, if any difference, between the performance of Chinese contractors and local contractors on construction sites, chairman of the Commission of Inquiry into the construction sector Professor John Uff QC finds in a Report which will test the credibility of the Government's attacks on the capacity of the local construction industry.