WE WANT ANSWERS, MR. PRIME MINISTER
By Andre Bagoo
March 05, 2010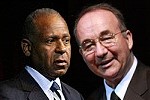 THE CONGRESS of the People (COP) yesterday called on Prime Minister Patrick Manning to immediately account for his failure to take action against Udecott executive chairman Calder Hart in light of fresh evidence linking Hart to a company his board awarded $820 million in contracts.

"The Prime Minister should account to the Parliament and indicate what actions the Government will take in order to preserve the integrity of the public justice system of Trinidad and Tobago," Dookeran said yesterday at a press conference at the COP's Flagship House on Tragarete Road, Port-of-Spain. newsday.co.tt
***
I don't know these people
Imbert has no answers to questions on Hart family ties to UDeCOTT contracts
Works Minister Colm Imbert yesterday adopted a 'see-nothing, know-nothing' attitude when asked about the release of documentary evidence which appeared to confirm that Urban Development Corporation of Trinidad and Tobago (UDeCOTT) boss Calder Hart had a family connection to CH Development, the company which UDeCOTT awarded, under Hart's chairmanship, a $367 million contract to build the Legal Affairs Ministry tower.
Lucrative affairs of the Harts
CALDER HART, chairman of the Urban Development Corporation of Trinidad and Tobago (UDeCOTT), has some fresh questions to answer. And those questions should be put to him by official investigators, following the revelation that Hart's in-laws got a multi-million-dollar contract from UDeCOTT, despite Hart telling the Uff Commission of Enquiry that no such family link existed.
Worst fears realised
…says Rowley on COP's Udecott documents
Diego Martin West MP Dr Keith Rowley has said his worst fears about the award of construction contracts materialised yesterday with the publication of reports which allege that there are family links between Udecott chairman Calder Hart and a Malaysian company. "I had the Prime Minister and Imbert saying in Hansard that I am obsessed with Udecott and, of course, I am obsessed with Udecott," Rowley said in a telephone interview yesterday. "If this is what is happening at Udecott, then I am supposed to be obsessed with it," he said.
We demand truth
THE Government is continuing to show a shocking lack of concern over a snowballing of allegations that seriously question the integrity of the expenditure of $820 million in taxpayer's money on the controversial Legal Affairs Tower.
Hart 'played role' in Guanapo church design
Urban Development Corporation of Trinidad and Tobago (UDeCOTT) chairman Calder Hart was allegedly involved in organising the professional services relating to the design of the Lighthouse of the Lord Jesus Christ Church at the Heights of Guanapo, Arima. And the design work was done for free, or for a nominal fee, unimpeachable sources said yesterday.
Hazel mum on PM's spiritual adviser
Local Government Minister Hazel Manning has refused to comment on questions concerning her husband Prime Minister Patrick Manning's spiritual adviser Juliana Pena.
High Court judge delivers ruling in UDeCOTT lawsuit today
***
March 04, 2010
EXPOSED: Malaysian documents prove Hart's family
affair in award of $300m UDeCOTT contract
The longstanding denials by controversial executive chairman of UDecott, Calder Hart, about family links to a firm he awarded a multi-million-dollar Government contract to five years ago have effectively been debunked by documents recently obtained from the Malaysian Government.
COP blows whistle on Harts
FRESH DOCUMENTS which appear to conclusively tie Udecott executive chairman Calder Hart to a company his board awarded $820 million worth in contracts emerged yesterday after being obtained by the Congress of the People (COP).
COP wants criminal probe
In the wake of the new links which show a definitive family connection between Calder Hart and the CH directors, Congress of the People deputy political leader, Prakash Ramadhar, has written to the Acting Commissioner of Police, Acting DPP and the Integrity Commission, demanding an immediate criminal probe into Hart.