By Andre Bagoo
December 29, 2009 – newsday.co.tt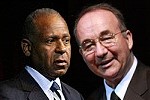 CHAIRMAN of the Commission of Inquiry into Udecott Professor John Uff QC has hit back at the State-owned enterprise for making what he described as "improper" allegations against him in a High Court lawsuit the Calder Hart-chaired company has brought to challenge the proceedings.

Even as he prepared to commence a fourth and final phase of hearings of the inquiry in November, Uff quietly swore a 234-paragraph affidavit prepared by Fleet Street, London solicitors Preiskel and Co LLP, in which he responded to allegations made against him. Those allegations stemmed from an affidavit filed by Udecott's chief operating officer Neelanda Rampaul earlier this year in relation to two pending court challenges Udecott has brought against the proceedings.
In their bid to challenge the proceedings and possibly delay the production of a final report, due on February 28, 2010, Udecott's attorneys, led by British barrister Andrew Goddard QC, argue in one of their suits that the commissioners have shown "apparent bias" against Udecott in the treatment of evidence lodged by Carl Khan, the ex-husband of Hart's wife Sherrine Hart among other things.
While Udecott has alleged apparent bias on the part of former commissioner Israel Khan SC as well as commissioner Kenneth Sirju, it has now emerged that Udecott is also alleging that the inquiry chairman, Uff, has also shown similar bias.
But in his affidavit, filed in his defence at the Port-of-Spain High Court on November 20 by attorneys Hamel Smith & Co, Uff:
describes as "improper" allegations made against him by Udecott based on his questioning of Works and Transport Minister Colm Imbert;
reveals that lawyers for Calder Hart tried to get the commissioners to keep Carl Khan's evidence secret;
notes that not only has Udecott been issued with a confidential letter of charges (known in legal circles as a 'Salmon' letter), but also Calder Hart has been served with one as well;
deposes on a row between lawyers for Udecott and the commissioners over the controversial Cleaver Heights housing project calling allegations made by Udecott on the point "strange" and "unwarranted";
defends fellow commissioner Kenneth Sirju and argues that the resignation of former commissioner Israel Khan SC has not tainted the proceedings.
In the affidavit filed by Rampaul, Udecott alleges that Uff demonstrated a predetermination of issues in the inquiry when he questioned Works and Transport Minister Colm Imbert on January 29, 2009. On that date, Uff asked Imbert at open inquiry proceedings at the Winsure Building Port-of-Spain: "I've had the impression, to be frank, that they were a law unto themselves…what is the position?"
In response to the Rampaul affidavit, Uff deposes, "Udecott alleges that despite my clarification of this remark on January 30 and February 2009, it was demonstrative of predetermination on my part." Noting that he has already explained the comment, Uff continues, "Udecott alleges that my explanation constitutes 'prevarication' and that my clarification that I had not predetermined matters 'lacks credibility'. Ms Rampaul seems to be saying that I am not telling the truth and that I had in fact made my mind up. Such a claim is improper and there is no basis for making it. I believe that no fair-mined and informed observer would have discerned a possibility of bias in my remarks," Uff says.
In his affidavit, Uff further details a row with lawyers for Udecott and the commissioners over the placing of two sworn statutory declarations from Carl Khan on the commission's website at http://www.constructionenquiry.gov.tt/.
Udecott alleges that Uff gave an undertaking that the declarations, which are available under the heading 'Documents' on the website, would not have been posted and described the commissioners placing of the documents online as "oppressive of and unfairly biased against" Udecott and Hart. The declarations detail apparent family links between Hart and a company to which his board awarded $668 million in contracts. Uff describes how on May 19 he forwarded the documents to Hart's lawyers for response and they, from as early as that date, indicated no intention to cross-examine Khan. Then, on May 20 he held further in camera meetings with Hart's lawyers at the Winsure Building.
At the meetings, held in the morning session and at lunch, lawyers of Hart, including Frank Solomon SC, urged Uff to not let Carl Khan's documents go public.
"Mr Solomon for Calder Hart raised many arguments as to why Carl Khan's statement should not be published on the commission's website," Uff notes, "However, Ms Rampaul's claim that 'In response the chairman expressly gave the undertaking to counsel that the statutory declarations would not be published on the commission's website before the matter had been further discussed at a meeting to be held later that day is inaccurate."
"I gave no undertaking that the statutory declarations would not be published. Indeed, I would have had no authority to give such an undertaking since the commission's mandate under Section 2 of the Commissions of Inquiry Act and the President's instruments was and is to hold the inquiry in public," Uff says. He says that he explained this at a meeting held that day at about 3 pm with the lawyers.
Noting that Hart's lawyers later failed to file further evidence in response to Carl Khan's claims, Uff notes, "in retrospect, if the commission erred in relation to Mr (Carl) Khan's statements, it was in delaying their publication while we allowed counsel for Mr Calder Hart to address us in private and without the knowledge of other parties to the inquiry."
Responding to a further claim by Rampaul that Uff was guilty of an "act of deliberate prevarication…to embarrass and scandalise Udecott and its executive chairman" Uff described the claim as "unfounded, tantamount to an accusation of actual bias and, what is more, apparently unexplained by Ms Rampaul: I would invite her to withdraw it."
"The allegation that I breached an express undertaking not to publish the statutory declarations is simply wrong. Ms Rampaul did not attend the in camera meetings and she seems to have been misinformed," Uff says. Newsday understands that Solomon–who was present–has filed an affidavit in contradiction with Uff's.
In relation to Cleaver Heights–which has been the centrepiece of a political battle between Prime Minister Patrick Manning and Diego Martin MP Dr Keith Rowley–Uff takes issue with Udecott's claim that he attempted to block Udecott from participating in the proceedings in relation to that project calling them "strange and unwarranted".
"My understanding was that Udecott was not concerned with matters relating to Cleaver Heights," Uff says. Of allegations made by Udecott that the commission's management of the inquiry timeline demonstrated bias, Uff describes the allegations as, "entirely without foundation, and, I believe, characteristic of Udecott's attempts to construct a case of bias for the purpose of this judicial review."
Of an application by Udecott to the court to delay the production of a final report, Uff notes, "the counter to Udecott's case for delaying the production of the commission's report is, of course, that there is a very great public interest that the commission should produce its report as soon as possible."
http://www.newsday.co.tt/news/0,113273.html