Trinidad and Tobago News Blog
www.trinidadandtobagonews.com/blog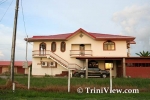 THE EDITOR: The public, unscientific and unfounded notion/assertion by Finance Minister Karen Nunez Tesheira that "the majority of Trinbagonians support the Property Tax Bill' flies in the face of the slightest scintilla of common sense and intellectual rationality.

Indeed, the population of T&T is estimated to circa 1.3m, yet one cannot find and locate at least twelve (12) persons on national radio and/or TV programs who have publicly come out and supported this draconian Property Tax Bill. So, the obvious rhetorical question to the Minister of Finance is: Who are the majority Trinbagonians that support this legislation? Could you tell me?
The salient fact of the matter is that the only Trinbagonians who support this Bill are the majority PNM members in the House and the majority PNM members in the Senate. That's the final, scientific tally, Madam Finance Minister.
In other words, in this Calypso season, the ruling PNM government is operating under the sobriquet of the "PNM Property Tax Calypso Tent" with House Speaker Barry Sinnanan and Senate President Danny Montano as tent managers, Patrick Manning as the major attraction, Colm Imbert as the MC, Peter Taylor, Esther Le Gendre, Karen Nunez Tesheira and Hazel Manning as the tent's "Property Tax Chorus", Michael Annisette as the musical director and John Jeremie as the tent's no nonsense bouncer.
The theme of this PNM 2010 Property Tax Calypso Tent is: "Magnum Est P.N.M. Et Pravalebit-Great is the P.N.M. and It Shall Prevail."
The fact of the matter is that this year's Calypso season comes to an end on 16 February 2010, ipso facto, if the PNM's Property Tax Bill becomes the law of the land, then, the PNM's season of governance will also come to an end at the next general elections.
The fact of the matter is that We the People brought the PNM-Manning government into office, but, however, We the People are sick and tired of being continually "bamboozled, hoodwinked and took" by this anti-people, anti-labour and anti-environment administration.
Let us be reminded that everything that is evil must come to an end. Manning's PNM time is now up.
We the People cannot take any more of the PNM's political arrogance, infra-structure inhumanity, police brutality, medical negligence, crime pappyshow policies, and downright incompetent governing of the country and its financial resources.
Now is the time for the democracy of the majority of We the People to supervene the "arrogance of power" of the PNM's minority in T&T. Enough is enough. PNM has got to go, period!
Dr. Kwame Nantambu
Diego Martin
Trinidad and Tobago News Blog's URL for this article:
www.trinidadandtobagonews.com/blog/?p=2181