By Raffique Shah
February 21, 2010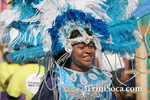 CARNIVAL Friday night and I am driving to Port of Spain, my mind working like a Pentium computer chip. Which route do I choose to reach St James, my regular liming spot? Over the years I have learned that bumper-to-bumper traffic, not to add a virtual sea of early-bird revellers, transforms the city into a motorist's nightmare. So once one decides to enter the epicentre of Carnival activities, one needs to plan one's route with a GPS-mind.

As traffic slows to a crawl after Chaguanas, I fear the worst: don't tell me this is what I must face for the next three-to-four hours. But as I pass Guayamare I realise a tow truck that's no hindrance to traffic flow is causing the slow flow. Gawking motorists, I muse, cause more traffic pile-ups than serious accidents or police roadblocks. It's smooth driving thereafter on the Butler Highway, although I approach the Churchill-Roosevelt with trepidation.
I turn west, and much to my surprise, pleasantly so, the traffic flows smoothly. I had decided to use the Lady Young Road to escape the downtown mess, the Wrightson Road gridlock. But on my radio I hear pan music: Oh, no! I think-pan in the Savannah (my announcer friends fail to mention the venue, which happens to be South Quay). I quickly telephone my friend, 'De Prive' (he is coming with some visiting ex-soldiers, from the east). Prive, I say, we have to face Wrightson Road and whatever awaits us there.
By that time, I say to myself, town must be in a mess, what with patrons attending the Soca Monarch finals, two pan finals, and who knows what else? Five-to-ten fetes? DJs at every turn? Beetham Highway is suspiciously light on traffic. I drive past the Lighthouse as if it's still in the sea-little traffic. When I reach Wrightson Road, I see few taillights ahead of me, and fewer headlights behind me. To my great shock, this once-feared strip is almost traffic-and-people-free! I'm through in minutes and reach my destination in record time.
No, I tell my friends, this can't be Carnival Friday night! At least not the ones we knew when we attended every pan show, several fetes, or just ambled around town taking in the 'Carnival vibes'. Something is wrong. Then 'mouths open, 'tories jump out'. Few of the 'carnival peongs' of yesteryear are excited over any aspect of the festival but the pan finals and the Calypso Monarch competition. We are jolted by the 'big bangs' that signal the start of Soca Monarch, but even that fails to ignite excitement among the group.
The street in St James where 'de lime' in on, once a beehive of creative activities-drummers fine-tuning their beats, masqueraders busy ensuring their costumes fit properly, sweet soca music belting out from every house-is, well, like a normal Friday night. I gamely ask those I am familiar with: hey, I thought you would be in the midst of the jamming at the Oval? Me, Raf? You seriously expect me to pay to be tortured with 'tatah'? Nah! I will check out the pan later, but that's it.
I should add that 'de lime' tuned in to the pan finals audio-wise, while the muted television showed the Soca Monarch. When, a few years ago, I found myself withdrawing from Carnival activities (except for Panorama), I thought it was a generational thing. But interacting with an increasingly large number of people who now stay away from the mess that passes for mas, I realise it's not. Young and old are fed up with the monotony of inane lyrics and two-beat sounds (well, that's not music!) that dominate fetes and the airwaves.
Yes, I know that at least 100,000 people were 'palancing' away at fetes and on Carnival days. I suppose when one's system is liquor-laden anything sounds like music or rhythm or beat. But for people who enjoyed, say, Kitchener's 'Flag Woman', Shadow's 'Stranger' and Rudder's 'Bahia Girl', to name just three of hundreds of great party songs that had the people-flooded streets of the main carnival centres gyrating, singing, enjoying ourselves, it's tough to digest 'we palancing'. The difference is akin to the contrast between a stale, dry hops bread and succulent pelau.
Besides the over-consumption of alcohol that numbs people's minds to the point where a 'dustbin cover' must sound like All Stars in full flow, the bikini-and-beads crap that is actually judged as mas is turning people off Carnival. But for pan music, which is rising to the heavens, thanks to innovations by the maestros and eagerness by young pannists, Carnival is stricken with terminal cancer.
Panorama finals proved to be a feast, a high-quality fare for those who love good music. I never want to be a judge in such competition. In fact, I have gone on record as opposing the competition aspect of pan music. Still, when Silver Stars dished out a superb rendition of 'Battle Zone', I switched off my TV and radio and went to bed. That was music 'fadder'. I sense, too, a changing of the guards in the calypso arena. Space does not permit, so I shall return to that next week.