By Anika Gumbs-Sandiford, guardian.co.tt
Monday 21st May, 2007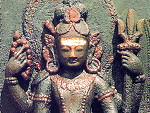 A Guru who arrived in Trinidad last week to give religious discourses (sat sangh) throughout the country on Hinduism has been detained in connection with the alleged rape of 22-year-old Guayanese woman.
The 85-year-old man, who is unable to speak English fluently, is on a one-month visit to T&T.
He was arrested by police at a house in Palmiste late Friday night.

According to a police report, at around 11.30 pm on Friday, the woman went to the home of the man to reportedly get spiritual healing.
The man, the report stated, told the woman to take off her clothes.
He then sprayed a liquid on the woman's entire body then sprayed himself with the same liquid.
The woman claimed that the man then began to fondle her and ordered her not to move.
The woman told police she was then made to perform oral sex on the man after which the man had sexual intercourse with her for approximately one hour.
She was then instructed to leave the house.
Yesterday, devotees were seen carrying a mattress and a pillow to the San Fernando CID where the guru is being detained.
Full Article : guardian.co.tt
NEWS UPDATE: May 22, 2007
Accused swami made to surrender passport
CLUTCHING a cane, an 85-year-old swami dressed in a saffron coloured kurta hobbled up the staircase of the prisoners' dock in San Fernando Magistrates' Court yesterday, to answer two counts of sexually assaulting a 22-year-old Guyanese woman…
Lawyer slams 'mischief'
Elderly swami charged with rape
A Hindu holy-man too feeble to walk without help was carried into court yesterday, charged with two sex crimes-which his defenders said he had neither the time nor the energy to commit.
Swami rape charge big news in India
Trinidad and Tobago made the headlines in India yesterday, after newspapers and news websites there carried news of the arrest of famous Hindu Swami Ram Tripathi's here on charges of sexual assault.
NEWS UPDATE: May 25, 2007
'Eternal saint' awaits day in court
Swami on rape charge has worldwide following
The Hindu holy man charged with rape and molestation in Trinidad heads a worldwide spiritual organisation with devotees who believe him to be an eternal saint.
Ram Kripalu Maharaj, 85, is considered by followers to be the first jagadguru (world teacher or master of masters) to be anointed in the last 700 years.
He is said to be only the fifth jagadguru in 5,000 years.
UPDATE: May 30 2007
Ailing pundit on rape charge
Wednesday, May 30 2007
CITING religious commitments in other countries and health reasons, an 85-year-old Hindu pundit from India, yesterday pleaded through his attorneys, for the start of the inquiry at the San Fernando Magistrates' Court into a charge of rape levelled against the pundit.
The elderly pundit, dressed in a white kurta (Hindu garment) with a saffron smeared on his forehead, reappeared before deputy Chief Magistrate Mark Wellington to face the charge which alleges he raped a 22-year-old Guyanese woman on May 18 in South Trinidad.
The accused pundit's attorney Prakash Ramadhar described the charge as a fabrication and said the pundit is revered by followers in India and other countries and was elevated to the highest level of Hindu spiritual attainment — Jagadguru.
The pundit, who cannot speak English, was accompanied to court by translator Dinesh Maraj, 19. Attorneys Prakash Ramadhar, Chaitram Sinanan and Jagdeo Singh, represented the pundit. Told the prosecution was not ready to proceed, Ramadhar told Wellington: "We're eagerly awaiting to deal with these serious allegations which we believe to be a gross fabrication to spoil the reputation of a pundit with an unblemished character. We hope to give justice to this man and we will devote all the resources available to us to do so."
The attorney pointed out that the pundit had already made reservations and bookings to attend several religious functions abroad. During the hearing yesterday, the pundit stood staring silently at the magistrate. Ramadhar told the court that the pundit suffers with a series of ailments including diabetes. Court Prosecutor Sgt Ali informed the court that the complainant — Corporal Dublin — was on study leave. The case was subsequently adjourned.
http://www.newsday.co.tt/court/0,57983.html
UPDATE: May 31, 2007
Senior Counsel: Rape accused can be named
By Anika Gumbs-Sandiford
Senior counsel Dana Seetahal says that T&T's current laws allow the publication of the names and photographs of persons charged with sexual offences.
She was speaking in an interview with the Guardian yesterday about the controversy surrounding the publication of the name of an Indian swami charged with rape.
"The law is clear," said Seetahal, who is also an Independent Senator, referring to the fact that the Sexual Offences Act was amended in 2000.
UPDATE: June 01, 2007
Media can name rape accused
An attorney defending swami Jagadguru Ram Tripathi on sex charges apologised yesterday for a misguided legal submission made by another lawyer who sought to have the Express cited for contempt of court.
UPDATE: June 09, 2007
Accused holy man gets back passport
THE Hindu holy man charged with rape and molestation received permission to continue his spiritual tour of the world yesterday, after his lawyers begged on behalf of millions of his devotees.
UPDATE: July 16, 2007
State Drops Rape Case Against Swami
TrinidadAndTobagoNews.com Reporters
July 16, 2007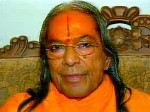 The state dropped its case against Swami Jagadguru Ram Tripathi Maharaj who had been charged on May 18th with performing a grievous sexual assault on a 22 year old woman.
The Swami walked out of the San Fernando Magistrates Court a free man after the decision was made by Assistant Director of Public Prosecutions, Roger Gaspard, to offer no evidence in the matter. Mr. Gaspard claimed that the evidence dealing with the alleged rape victim's lack of consent was tenuous and as such, the state would not be able to make a prima facie case against the accused.
The matter, which was heard in the first court before Deputy Chief Magistrate, Mark Wellington this morning, was then dismissed.
The Swami, who is said to have a large following of Ashrams in several countries including Europe, North America and India, came to Trinidad for a one month trip as part of a devotional tour. He was arrested on May 20th after a 22 year old Guyanese woman claimed that she was assaulted by the Swami in the prayer room of a house where the Swami stayed in Branch Road, Palmiste, San Fernando.
The Swami was granted 50,000 dollars bail on the condition that he surrendered his passport. On June 9th his attorneys successfully argued for the return of his passport so that he could continue his world tour.
Lead defense attorney, Prakash Ramadhar, applauded the move by Mr. Gaspard stating that he continues to be an exemplar in the office of the DPP. However, he condemned the police investigators who charged the Swami.
Addressing his supporters today at Branch Road, Palmiste, Swami Maharaj told his followers that he had forgiven the woman who had accused him of rape. He said the truth had prevailed and the charges were a test of their faith. Swami Maharaj is due to leave Trinidad tomorrow.
http://www.trinicenter.com/tnt/2007/160707.html