By Clint Chan Tack and Sean Douglas
February 06, 2010 – newsday.co.tt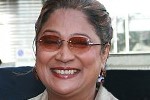 UNC political leader Kamla Persad-Bissessar was rushed to the St Clair Medical Centre yesterday after she fell hard in the Parliament Chamber at 4.20 pm during a sitting of the House of Representatives, sustaining injuries to her left shoulder.

The loud bang from her fall startled PNM and UNC MPs alike, as the House was concluding debate on the Prison (Amendment) Bill 2010. Word that Persad-Bissessar had fallen flat and injured her shoulder spread through the Chamber. MPs, police officers and Parliament staffers immediately rushed to her assistance.
Education Minister Esther Le Gendre jumped up and helped Persad-Bissessar out of the Chamber with the assistance of police officers. Parliament staffers quickly brought chairs and glasses of water for the UNC leader. Caroni East MP Dr Tim Gopeesingh, who is a medical doctor, left the chamber and then re-entered to brief Chief Whip Jack Warner about Persad-Bissessar's condition.
Newsday intercepted Gopeesingh and Princes Town North MP Subhas Panday as they escorted Persad-Bissessar out of the Red House to a waiting Parliament vehicle. The UNC leader held on to her left wrist as she was gently eased into the vehicle by her fellow MPs. Persad-Bissessar, who was supposed to hold a news conference with Public Services Association president Watson Duke at the 4.30 pm tea break about the Trinidad and Tobago Revenue Authority, told Newsday: "Jack is handling that meeting." Gopeesingh and Subhas climbed into the vehicle which promptly departed for St Clair.
At the end of that conference, Warner told reporters Persad-Bissessar had slipped at the steps near the public gallery. "Of course I'm concerned, because after all she has a lot of work to do. She has a function tomorrow to say thanks, but I'm quite sure she is so resilient and so strong, she will recover." Warner did not attribute her fall to overwork. "Mrs Persad-Bissessar is no stranger to hard work," he said.
Persad-Bissessar arrived at St Clair Medical Centre at 4.45 pm. She was gently eased into a wheelchair by a hospital attendant and taken inside. Gopeesingh and Subhas followed close on her heels. Gopeesingh and Subhas emerged an hour later to brief reporters waiting outside about the UNC leader's health. "Mrs Persad-Bissessar, on the western side of the Parliament, tripped on the carpet and fell down two flights of stairs just to the western end and hit her left shoulder," Gopeesingh said. "She was in a lot of pain and we brought her to St Clair to have her evaluated. She seems to have a small fracture of the head of the humerus. She is in a lot less pain now… we have her on pain relief," he added.
Subhas said Persad-Bissessar had an X-ray and an MRI done to determine the extent of her injury. "We are waiting an orthopaedic consultant to evaluate whether she would just need a sling or any operating procedure done," Gopeesingh said. Disclosing that he and Clerk of the House Jacqui Sampson arranged for Persad-Bissessar to be brought to St Clair for treatment, Gopeesingh said: "We need an emergency system for Parliament because we took almost 20 minutes to reach here."
Full Article : newsday.co.tt