Kamla moves to unite opposition forces
Ria Taitt Political Editor
February 02 2010 – trinidadexpress.com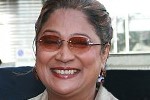 UNC Political Leader Kamla Persad-Bissessar has proposed the establishment of a committee to work out the modalities and framework for the holding of 'unity' discussions with stakeholders and political organisations opposed to the 'maladministration of Patrick Manning'.

But Persad-Bissessar also faced questions on controversy arising out of the appointment of Jack Warner as Chief Whip. Questioned on whether the FIFA commitments of Warner would hamper his performance as Chief Whip, she said there will always be someone in the Chief Whip chair, as well someone to perform the duties of Chairman 'whenever Mr Warner is out'. She said the party has the constitutional mechanism to allow others to act. Harry Partap is deputy Chief Whip.
Persad-Bissessar said she used the same formula for consultation which was employed in 2007 (when Ramesh Lawrence Maharaj was selected Chief Whip).
'I was called then by the leader (Basdeo Panday) and told 'I am considering appointing a Chief Whip, do you have any recommendations?' And so that is the process followed in the past and that is the process I followed,' she said.
Reiterating that Warner got the second highest number of votes among the MPs in the recent internal election, Persad-Bissessar said: 'I will listen to the voice of the people … As to the opinion that I should allow time for wounds to heal before making such decisions, I beg to differ …The nation … is in intensive care and I cannot afford to tiptoe around people's egos whilst decisive action is required.'
Asked whether there would be any relationship between the office of the Opposition Leader and the Political leadership of the Opposition UNC, Persad-Bissessar said ideally, there should be no disconnect. 'There will be some areas of concern … But it would not stop the UNC from carrying out its functions,' she said.
'We will want to have communication with Mr Panday… We have no aversion to working alongside him.' But she noted: 'The people are far more powerful than single individuals and personalities. And the people want a people's revolution and no one person or two persons will hold back that revolution.'
She added: 'I do believe that the MPs (in whose hands the matter lies) will let good sense prevail, that they would listen to the people.'
Full Article : trinidadexpress.com