Kamla is new UNC Political leader trinidadexpress.com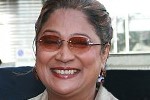 Joining Persad-Bissessar in the leadership rung is Chaguanas West MP Jack Warner who has won the chairmanship, also by a landslide. The triumph of Warner, who was essentially on his own, attests to his personal strength within the party.
Ready to work with opponents
Excoriated as a weakling incapable of leading and hiding a drinking weakness, Kamla Persad-Bissessar proved last night she had the political strength to beat two political legends.

Jack wins, hails Kamla
Warner thanked Panday for keeping the party alive and said that with the passing of the mantle yesterday, reality will eventually dawn on him. Warner said Panday has been the victim of people close to him who should have advised some time ago that it was time to bow out.
It's not over, says Panday
Opposition Leader Basdeo Panday hinted last night that action may be taken by his supporters challenging the results of yesterday's internal elections.
Boos for Bas
Candidate Basdeo Panday suffered the election day embarrassment of being booed and jeered as he left the Chandernagore Presbyterian School yesterday after voting for himself and his slate.
…Thuggery, says 'sad' Panday
Opposition Leader Basdeo Panday said yesterday that thuggery was present in the UNC internal elections.