By: Natalie Hopkinson
January 17, 2010 – theroot.com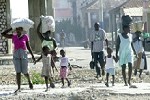 "Nearly five years ago, when you could see photo captions of white Hurricane Katrina survivors side-by-side with black survivors, the racial double standard in the news media covering a catastrophic tragedy were obvious. Hungry, desperate white survivors were "finding food" while hungry, desperate black survivors were "looting" for food."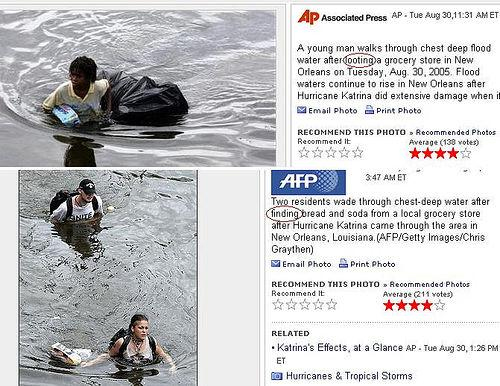 Dueling Photo Captions:
"A young [black] man walks through chest deep floodwater after looting a grocery store in New Orleans…"
"Two [white] residents wade through chest-deep water after finding bread and soda from a local grocery store after Hurricane Katrina came through the area in New Orleans…"
***
The Looting Lie
In the wake of Haiti's earthquake, the media is widely reporting stories of looting. Didn't they learn anything after Hurricane Katrina?
By Cord Jefferson
January 15, 2010 – campusprogress.org
It's been three days since an earthquake measuring 7.0 on the Richter scale devastated the small island nation of Haiti, leaving tens of thousands dead and many survivors homeless. Sadly, the images and stories emerging from the disaster—including dead children and aid shortages—are all too reminiscent of those that followed Hurricane Katrina. So is an unfortunate media talking point: looting.
Already, tales of "machete wielding gangs" looting Haiti's rubble are widespread, from news outlets on the left and the right. Similar stories surfaced after Hurricane Katrina, but we now know of a large body of evidence proving that the media greatly exaggerated reports of post-Katrina New Orleans being overrun with violence and theft.
To discuss this troubling media phenomenon, and to better understand what happens in the immediate fallout of massive natural disasters, Campus Progress spoke with Dr. Kathleen Tierney, professor of sociology and behavioral science and director of the Natural Hazard Center at the University of Colorado at Boulder.
Do you think that because the victims of both Haiti and Katrina were poor and black, the media approached the stories with a certain perspective?
Definitely. There is an institutionalized racism in the way these poor black disaster victims are treated. The victims of Katrina were treated with so much presumption, as if you could assume they were going to loot, because they were black. Just like we know that the people in Haiti are bad because they're black. Black men especially are demonized. During Katrina, the media picked up on every rumor—whether it was raped 4-year-olds in the Superdome or people shooting each other. Actually, for a paper me and a couple of my graduate students wrote called "Metaphors Matter," we found some transcripts of TV programs in which members of the media expressed regret. They were saying, "We really blew it during Katrina; we acted on all of these rumors." I myself was on Jim Lehrer's show, where they were asking about the looting [in Katrina], and I got into it with a police officer, and he ended up agreeing with me that it was a myth. It's not real. I thought the media would have learned something after Katrina, but evidently they haven't. Here we go again.
Full Article : campusprogress.org
***
When the Media Is the Disaster: Covering Haiti
by Rebecca Solnit
Soon after almost every disaster the crimes begin: ruthless, selfish, indifferent to human suffering, and generating far more suffering. The perpetrators go unpunished and live to commit further crimes against humanity. They care less for human life than for property. They act without regard for consequences. I'm talking, of course, about those members of the mass media whose misrepresentation of what goes on in disaster often abets and justifies a second wave of disaster. I'm talking about the treatment of sufferers as criminals, both on the ground and in the news, and the endorsement of a shift of resources from rescue to property patrol. They still have blood on their hands from Hurricane Katrina, and they are staining themselves anew in Haiti.
Full Article : truthout.org
***
The myth of Haiti's lawless streets
To withhold aid because of the 'security situation' is a miserable excuse for agencies' failure to deliver desperately needed help
By Inigo Gilmore
January 20, 2010 – guardian.co.uk
As a member of the media covering the tragedy in Haiti, it's with a sense of alarm and astonishment that I've witnessed how some senior aid officials have argued for withholding aid of the utmost urgency because of sensational claims about violence and insecurity, which appear to be based more on fantasy than reality.
John O'Shea, who runs the well-known Irish aid agency Goal, has joined this chorus, telling the Guardian he couldn't get his trucks from the Dominican Republic to Haiti because he had no guarantees his drivers wouldn't be "macheted to death on the way down". He added that Goal has no plans to deploy its much-needed doctors and nurses on the streets of Port-au-Prince.
From what I've observed, such chilling claims do not match the reality on the ground; and by trumpeting a distorted and sensational picture about the violence, some senior aid officials may be culpable of undermining the very aid effort they are supposed to be promoting. When I traveled into Haiti's disaster zone last week from the Dominican Republic, I did so alone and on a bus, whose passengers were mostly Haitians, including some living in the US. Since then, whether on the road to Port-au-Prince or within the city, I have not witnessed anyone wielding a gun, a machete or a club of any kind. Nor have I witnessed an act of violence. (I have seen one badly wounded man who had been shot in circumstances which were unclear and who was eventually rescued by US soldiers after an American reporter sought help.)
Any violence is localised and sporadic; the situation is desperate yet not dangerous in general. Crucially, it's not a war zone; it's a disaster zone – and there appears to have been little attempt to distinguish carefully between destructive acts of criminality and the behaviour of starving people helping themselves to what they can forage. For Haitians and many of those trying to help them, the overriding sentiment is that a massive catastrophe on this scale shouldn't have to wait for aid because blanket security is the absolute priority.
Full Article : guardian.co.uk