Trinidad and Tobago News Blog
www.trinidadandtobagonews.com/blog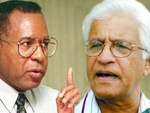 PM, Bas locked in race to the bottom
Several major findings emerge from this annual survey of public opinion as it relates to governance. Perhaps the most significant, though perhaps not the most surprising finding, was that both the People's National Movement and the United National Congress are imploding, if we measure that development by the public standing of their political leaders.

80% of citizens unhappy with Manning Government
Citizens of Trinidad and Tobago are not at all satisfied with the manner in which their country is being run by the Manning administration.
PNM, UNC both corrupt
Corruption continues to be an issue that generates angst in the bosoms of many Trinidadians who however seem resigned to the fact that both the PNM and the UNC are corrupt outfits, with little separating them, notwithstanding the rhetoric.
Summits a waste of time, money
Despite repeated assertions that he respects the independence of the judiciary and the media, and that he has no dictatorial or even presidential or monarchical ambitions, Prime Minister Patrick Manning is now widely perceived as hubristic and driven by egomanic ambition to be a statesman of international significance. When asked whether Mr Manning secretly desires to control the media, 59 per cent said yes, while 24 per cent said no. Seventeen per cent were unable to say.
Kamla contests
It was amid thunderous applause from her constituents that Deputy Political Leader for the United National Congress, Kamla Persad-Bissessar, made her announcement to contest for leadership of the party in January 2010.
Kamla: 'No one will keep me down again.'
"No-one is ever going to keep me down again….no one!" With those words UNC deputy political leader, Kamla Persad-Bissessar, announced her run for the post of political leader in the Opposition party's January 24 internal elections.
Kamla to contest UNC elections
Siparia MP Kamla Persad-Bissessar said she went through emotional turmoil as she deliberated whether to challenge her guru and mentor, Opposition Leader Basdeo Panday, for the United National Congress' leadership but in the end, she declared she stood ready to take back this country from the People's National Movement Government.
'Speech, record not matching'
Tabaquite MP Ramesh Lawrence Maharaj said yesterday Siparia MP Kamla Persad-Bissessar's statements on leadership and courage do not reflect her track record.
Panday: I will be no one's deputy
OPPOSITION Leader Basdeo Panday has said that he will not be a deputy political leader of the United National Congress (UNC) if Kamla Persad-Bissessar or Ramesh Lawrence Maharaj wins the party's January 24 elections for political leader.
Panday faction denies firings in UNC
Panday: History in the making
Opposition Leader Basdeo Panday said yesterday history is in the making as the United National Congress' internal elections nears.