Trinidad and Tobago News Blog
www.trinidadandtobagonews.com/blog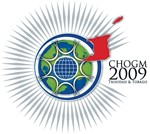 PoS CHOGM ends
COMMONWEALTH leaders yesterday paid glowing tribute to Trinidad and Tobago for hosting one of the most successful Commonwealth Heads of Government Meetings (CHOGM) in the 60-year history of the organisation. The leaders paid their tributes as they delivered their closing statements in the presence of local and international journalists during the final executive meeting of the CHOGM in the Port-of-Spain ballroom of the Hyatt Regency Hotel and Conference Centre.

Leaders sing PM's praises after successful CHOGM
Trinidad and Tobago and Prime Minister Patrick Manning received lavish praise yesterday. This was the unanimous view expressed by attendees at the Commonwealth Heads of Government meeting in Port of Spain, as the curtain came down on the event at the Hyatt Regency hotel in Port of Spain.
Heads hail CHOGM as a major success
Sir Michael: PoS CHOGM one of the best
Manning: T&T agrees to reduce carbon emissions
Govt seeking ways to minimise carbon dioxide emissions
Global economy still a major issue, says PM
Fixing the world's broken economy is still a major issue for the several Heads of Government who attended this weekend's Commonwealth Heads of Government Meeting (CHOGM).
Rwanda joins Commonwealth
Rwanda has become the 54th member of the Commonwealth. The application of the African country was accepted during the 20th Commonwealth Heads of Government Meeting, which ended at the Hyatt Regency Hotel in Port-of-Spain yesterday.
Welcome Rwanda
AMIDST lingering concerns over its human rights record, Rwanda was yesterday announced as the 54th member of the Commonwealth after leaders at this weekend's Heads of Government Meeting in Port-of-Spain decided unanimously to admit the African state into their fold.
Australia presents Lara with top award
In a special ceremony yesterday, former West Indies batting star Brian Lara was presented with an honorary award by the Australian Government. Australian Prime Minister Kevin Rudd, in this country for the Commonwealth Heads of Government Meeting, pinned the medal on Lara's jacket.
C'wealth heads mum on Vanuatu PM's dismissal
Low-key send-off for C'wealth heads
Another PoS milestone
THE four Heads of Government who attended yesterday's closing press conference of the 21st Commonwealth Summit held in Port of Spain, all heaped praise on their host, Trinidad and Tobago Prime Minister Patrick Manning for a job well done.
Kamla calls for moratorium on aluminium smelter plants
UNC deputy leader Kamla Persad-Bissessar has called on Prime Minister Patrick Manning to announce a moratorium on the aluminium smelter plants
Bas: Major changes coming in UNC
Opposition Leader Basdeo Panday yesterday signalled that there would be major changes ahead in the United National Congress (UNC), which could see the booting out of Jack Warner from the deputy leader's position.
…Panday wants disciplined slate
Parts of West Trinidad flooded
HEAVY rainfall between Saturday night and yesterday resulted in several areas in west Trinidad being flooded and some persons spending their weekend marooned at home.
Diego, Carenage cleaning up after flood
Three bandits killed
Three suspected carjackers were shot dead after they seriously injured a police officer and attempted to rob him of an unmarked police vehicle early yesterday.
Three killed during shootout with cops
AFTER shooting a police officer and attempting to steal the unmarked police car that he was driving, three men were shot dead by police yesterday.
Man found strangled at home
A SENIOR technician at the Water and Sewerage Authority (WASA) was found hog-tied, gagged and dead inside his home at Pasea Road Extension in Tunapuna yesterday.