Trinidad and Tobago News Blog
www.trinidadandtobagonews.com/blog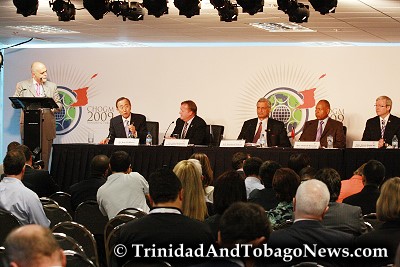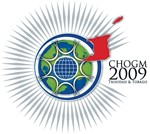 PoS climate deal sealed
HISTORY was made in Port-of-Spain yesterday as Commonwealth leaders reached a groundbreaking agreement on climate change on day two of the Commonwealth Heads of Government Meeting (CHOGM). This was revealed at a news conference held at the International Financial Centre in Port-of-Spain by Prime Minister Patrick Manning, Australia Prime Minister Kevin Rudd, Commonwealth Secretary-General Kamalesh Sharma, United Nations (UN) Secretary-General Ban Ki-moon and Denmark Prime Minister Lars Lokke Rasmussen.

T&T pilots Commonwealth climate change consensus
Trinidad and Tobago's Commonwealth leaders' meeting has wrought consensus on a Commonwealth climate change declaration, whose key element involves immediate funding from next year for small island states affected.
PM: I'm going to Denmark for climate talks
Prime Minister Patrick Manning is one of 90 world leaders who have pledged to attend crucial talks on climate change in Copenhagen, Denmark, next week, even as he maintains an aluminium smelter can be constructed in Trinidad and Tobago that will pose no risk to anyone or to the environment.
'Commonwealth support for Copenhagen'
…as Bharath seeks long-term $$ solution for region
Queen probes Tim's claims
HER MAJESTY Queen Elizabeth II has appointed Sir George Alleyne, Chancellor of the University of the West Indies, to investigate and report on the issues surrounding UWI's refusal to allow Dr Tim Gopeesingh to take up the post of senior lecturer because he is a sitting MP.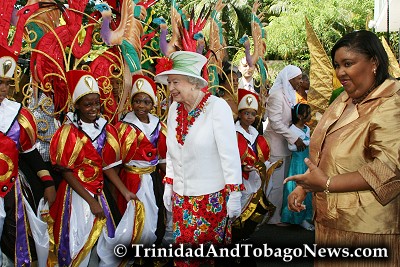 Queen gets taste of kiddies Carnival
TT eyes 2018 Commonwealth Games bid
PRIME MINISTER Patrick Manning yesterday announced to a closed-door CHOGM sports breakfast meeting that he wants to bid to have this country host the 2018 Commonwealth Games.
PM makes bid for 2018 Commonwealth games
Anti-gay legislations and economics in Commonwealth States
Despite the United Kingdom's repeal of anti-gay legislations in 1967 — 42 years ago, 41 of its Commonwealth states have retained them.
PM loses seat for attending talks
Natapei was fired for attending the Commonwealth Heads of Government Meeting (CHOGM) currently taking place at the Hyatt regency hotel in Port of Spain. According to the standing orders, Natapei forfeited his seat in Parliament after missing three consecutive sittings without notifying the Speaker.
Golden goblets at Royal dinner
Prime Minister Patrick Manning was one of the first Heads of Government to sip from a solid gold, antique Commonwealth Goblet at Friday night's long-awaited Royal Commonwealth Dinner.
'Meet Superblue' greeting for Gordon Brown
BRITAIN's Prime Minister Gordon Brown took time off from his busy CHOGM schedule to attend the opening of a special sporting initiative to transform the lives of hundreds of youths in the country.
Ahead Has No Crown
The Commonwealth is a voluntary intergovernmental organisation that covers fifty-three independent states. The collection of nations that belong to the organisation and the two billion people they represent justify its existence.
An 'old boys club' headed by an old lady
Friday morning. Big day for Prime Minister Patrick Manning. Her Majesty Queen Elizabeth II heads a list of dignitaries attending the CHOGM. Over the next three days Trinidad and Tobago, this small country, will showcase its wonderful Chinese architecture to our envious Commonwealth brethren.
Panit 2 Planet hits Sarkozy for backing smelter
French President Nicolas Sarkozy earned himself a lot of scorn at yesterday's Panit 2 Planet meeting, a protest forum held by a coalition of environmental, agricultural and civic groups.
Her Majesty bids farewell
AT ABOUT 8.20 pm last evening, Her Majesty Queen Elizabeth II and His Royal Highness Prince Philip, the Duke of Edinburgh, left aboard a British Airways jet after a three-day state visit to Trinidad and Tobago (TT).
Top cop praises law enforcement
ACTING Police Commissioner James Philbert yesterday praised both local and regional law enforcement agents for the role they are playing in ensuring the Commonwealth Heads of Government Meeting (CHOGM) is a success.
Man held in Tobago
ACTING on information, Tobago police detained the head of a local Muslim organisation in Scarborough on Friday while he was attempting to board the inter-island ferry TT Spirit to Trinidad.
Muslim denied entry to T'dad from Tobago
A LOCAL Muslim was denied entry into Trinidad from Tobago on Friday allegedly because of his radical beliefs on Islam, the Sunday Express learned yesterday.
A home for rhythm Martin Daly
The pursuit of gross national happiness? Selwyn Ryan