By Stephen Kangal
February 02, 2007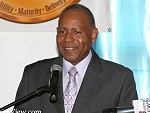 Those of us who stood as helpless and detached spectators agonising at the repressive regime of the late Forbes Burnham of Guyana will recall that whenever the late comrade Prime Minister faced challenges with his domestic policies his political exit strategy entailed embarking upon some African foreign policy and demarche geared to divert Guyanese attention from his failures and lack of credibility at home. That is in keeping with the diversionary theory that when in trouble at home rulers choose to transfer the focus abroad.

How else can I explain the current ill advised African safari undertaken by our own Prime Minister Manning, especially when his National Security Minister is in Jamaica? In the face of militant opposition at home to his aborted smelters, crime pandemic, gas-based, off-shore favourable industrialisation policy, squandermania on several fronts, demise of agriculture and the rising tide of discontent being expressed by civic society on his dictatorial unilateralism, he ducks these problems and runs to visit poor ancestral countries. These have no trade and economic significance for us.
Do we taxpayers have to foot the bill for this pathetic strategy designed to embellish his international standing to compensate for his below par performance domestically that leaves us hopelessly depressed and vulnerable to the criminal elements? Why must he travel with his press retinue far away to the OAU Summit in Addis Ababa to repeat ad nauseam boring and hackneyed pronouncements on unpopular and untenable domestic policies already known to and rejected by us? This stupidity must cease because Manning thinks that the Heads of the OAU are as foolish as he deceives himself into believing that we are.
The speech was directed at us – not the African leaders. Hence it is relayed to us natives in T&T by his image makers/spin doctors geared to telegraph that he has the backing and support of some African dictators including Museveni and Robert Mugabe. Manning must know we "overs" that nonsense.
These Africans will already be privy to his Chatham debacle from diplomatic reports sent to their respective headquarters since the Chatham protest received international media coverage. Mr. Manning is guilty of misleading the Africans and telling them about our high electricity consumption when their people light flambeux at nights and eke out a living from the arid land.
He cannot throw dust in their faces even though they will be diplomatically polite to him.
Why must Manning travel 7,000 miles to Addis Ababa to tell of his technical assistance to seven West African countries when that was announced in his Heads of Missions Conference address? Was he undiplomatically flaunting our wealth and our economic bonanza as a nabob to an assembly of leaders of poor struggling African countries who cannot afford to feed their people far less to establish missions in T&T merely to pander to ancestral connections. That does not make any sense to the poverty stricken Africans.
He should have told the Africans what they would have already known. That is to say that the little humble people of Chatham stood up for environmental conservation against mighty Alcoa and his regime and the Alcoa smelter is now a relic of our energy history. That Chatham protest provides the enduring inspiration and example that the people of T&T can offer to our African brothers against anti-populist, resource depleting industrial policies and creeping dictatorships.