By Nalinee Seelal, newsday.co.tt
January 31 2007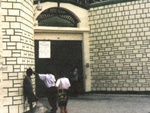 An elderly couple was beaten to death at their Cascade home yesterday by bandits who escaped with an iron safe, leaving behind two infant children crawling in the blood of their murdered grandparents.
The badly beaten body of retired Neal and Massy auto manager, Clyde Commissiong, 69, and his 70-year-old wife, Denise, were found covered in blood in two separate areas of their home on Riverside Road, Cascade. The discovery was made by their daughter Simone, around midday yesterday.

An eight-month-old baby, Jaden Commissiong, and six-and-a-half-month old Jeniah, grandchildren of the murdered couple were found crawling in blood at the two-storey house. The children were crying when found by Simone.
A traumatised Simone contacted her brother, Gary Commissiong, and her nephew, Michael Forrester, who arrived at the murder scene within minutes.
They found Clyde in a corridor close to the kitchen with severe head wounds and a faint pulse.
He was rushed to the Port-of-Spain General Hospital where he died at about 2.30 pm yesterday.
The body of Denise was found in a room, also covered in blood. She was severely beaten on the head and face.
Police investigators believe that a piece of iron was used by the killers to beat the couple to death.
Simone and the babies were taken away from the murder scene by relatives, while Gary and others stood outside the house and looked on in shock and horror.
The body of Denise was viewed by District Medical Officer, Dr Chai Hong, and ordered removed to the Forensic Science Centre.
Police investigators later discovered that an iron safe containing, cash, jewelry and important documents was taken by the killers.
The house was searched for prints by officers of the Crime Scenes Unit.
Neighbours of the dead couple emerged from their Cascade homes and looked on in disbelief as the body of Denise Commissioning was removed by undertakers.
One of the last persons to see Clyde alive was Quami Richards, a vegetable mart owner of Cascade.
He said that at about 9.15 am yesterday, Clyde purchased seedless grapes from his stall. This brought about a conversation between them concerning the price of grapes.
Richards told Newsday that Commissiong was one of his favourite customers and was a decent, law abiding and honest citizen.
Richards expressed sadness and anger over the murder of his treasured customer.
Independent Senator Angela Cropper whose husband, John, her mother Maggie Lee 83, and sister Lynette Pearson, 51 — a former British Broadcasting Corporation anchorwoman — were brutally murdered at their Second Avenue, Cascade home on December 11, 2001, appeared to be at a loss for words when Newsday broke the news to her yesterday about the two murders of the elderly couple.
Clutching her chest and taking a deep breath, Cropper said, "This has got to stop, things have gone too far and the lives of innocent citizens are being lost willy, nilly."
Murder of the Commissiongs took place not far from the Croppers' home.
Senator Cropper said the government must realise that its priority is to civilise this society, and it needs to attack the crime situation on all fronts to protect the citizens of Trinidad and Tobago.
Cropper said that no one can be healed from losing their loved ones to murder, and added that the only temporary relief was to reach out to those families who have lost their loved ones to the horrible crime of murder.
She said that while Government continues to boast that a lot of resources were being acquired to fight crime, it needed to have dialogue with the citizens of the country on ways and means to deal with crime, as a matter of urgency.
Minister of National Security Senator Martin Joseph when contacted yesterday said that he was not aware that the murders had occurred in Cascade.
He said that Newsday was the first to inform him of the murders and he intended to speak to the Commissioner about the matter.
Late yesterday, residents of Cascade met to discuss the murders and called for more patrols in their community.
Yesterday, the murder toll for the year stood at 26.
http://www.newsday.co.tt/news/0,51569.html