Newsday's Editorial
Tuesday, October 6 2009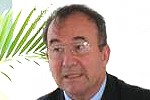 LAST Friday's freezing of the Commission of Inquiry into Udecott until the High Court hears Udecott's case for judicial review on February 8, 2010 may look like a bolt out of the blue, but to seasoned observers it should come as no surprise. While on the surface there is a lot of confusion as to how lawyers for the Commission could possibly have ended up agreeing to such a draconian consent-order with Udecott's lawyers, we dryly note that it comes on the heels of a long list of past efforts to throw the spotlight of public accountability away from Udecott.

We recall that the original intention of Government was that the inquiry be done merely by a parliamentary Joint Select Committee – which would likely be chaired by a Government MP and which might not have been televised. A public outcry, however, forced the Government to agree to a commission of inquiry, but again there seemed to be an attempt by the Government to take control by the nomination to head the Commission of Mr Gordon Deane.
With the inquiry underway, there were other apparent efforts to throw it off track.
We recall that last Friday's freeze was not the first legal action by Udecott which in May had got a stay of commission's proceedings. That time Udecott had claimed that a letter from commission chairman, Prof John Uff — which alleged that Calder Hart enjoyed excessive power in Udecott, and that Udecott has an "improper and potentially corrupt influence "over tendering — had violated natural justice."
We also recall the sidetracking of the Uff Inquiry into the matter of Cleaver Heights involving claims about the relatively minor sum of $10 million — compared to the billions of dollars otherwise under the Commission's scrutiny.
This certainly looked like a red herring to us.
Last December, we recall, Udecott had to be upbraided by Prof Uff for the late submission of documents to the inquiry.
There were other events that occurred that acted to delay the inquiry. Last week in the Senate, Opposition Senator Wade Mark, alleged that the Government had set up the whole inquiry to be "a put-up job" and "a cook up", and called the names of several key actors in the inquiry, including the Commission's attorneys.
Aside from all the dazzling legalisms, one must remember a few simple facts about the background to this whole matter. The inquiry came after the firing of Diego Martin West MP Dr Keith Rowley for alleged "wajang" conduct after he had complained that Udecott gave little accountability in its costly projects such as the Tarouba Stadium ($756 million), Chancery Lane Complex ($732 million), the Port-of-Spain Waterfront ($1.6 billion) and the Academy of Performing Arts.
The inquiry itself has found that not only does Udecott operate outside of its then-line Minister (Dr Rowley), but it even violates its own rules, with Prof Uff calling Udecott, "a law unto themselves." It was also discovered that Mr Hart shared the same fax number as a firm which Udecott had hired — CH Development International — and that Mr Hart's wife, Mrs Sherrine Hart, has a brother and brother-in-law who were directors in CH Development/Sunway, the firm which got the contract to build the $368 million Ministry of Legal Affairs tower.
So there are certainly huge stakes involved in this inquiry, and there have apparently been many attempts to throw it off track.
We also note the glaring contrast in the many top public appointments which Mr Hart continues to enjoy despite all these question-marks over him (as he heads Udecott, Trinidad and Tobago Mortgage Finance Company, and National Insurance Board among others), while on the other hand no Integrity Commission exists, and the Government made only acting appointments to the posts of Director of Public Prosecutions (DPP) and Commissioner of Police (CoP), all of which are key offices that would need to act on any findings of the Uff Commission. We also pose the question asked by many, if the Government is genuinely committed to accountability, but Udecott isn't, why doesn't the Government replace the Udecott board?
http://www.newsday.co.tt/editorial/0,108631.html
Trinidad and Tobago News Blog's URL for this article:
www.trinidadandtobagonews.com/blog/?p=1711