By Linda E. Edwards
January 11, 2007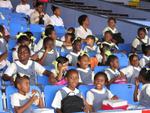 The Socialist Worker, in an article titled "Schools Report Shows Young People's Lives Are Blighted by Racism" reprinted by Trinicenter.com, reports that many young people's school lives are devoid of hope due to racism and poverty. The report, which was first published on December 16, 2006, applies to Britain and British schools. Trinidad and Tobago's education personnel should not pass up the opportunity to read the article and learn from it.

Take off the country and town names, and the report could have been issued about Trinidad and Tobago, the USA or any country where non-white children are educated using European value systems and European teachers, or teachers who are European by osmosis, having never or hardly been to Europe, but who have adopted the value systems of English schools. The statistics are scary. The Non-white (whom the report calls Black) students stand only a fifth of a chance of being identified as "Gifted and Talented". Each year, 1000 Black pupils are excluded from schools, (Told to go home and not come back, maybe? And their parents are unaware of an appeals procedure?) and 30,000 are temporarily excluded (-suspended at home) for varying periods of time.
Startling data, but not surprising data, includes the results of blind exam marking compared to marking the papers of students whose identities are known. When the teachers know whose paper is being marked, the Black student does not fare as well. Its all about expectations of success, predictions of failure
Nothing about this surprised me. The Cambridge Overseas Certificate Exams were marked blind, and this gave opportunities to young students, non-white students- from all over the Commonwealth. Major American school (PSAT, SAT, AP. GRE, LSAT) exams are marked blind, and a few Black kids (African, Hispanic and Asian) get in to MIT and Harvard based on test scores alone. The SEA exams are marked blind, and all sorts of students soar to excellence, receiving perfect scores here, there and everywhere. It is in the classroom where the teacher is not blind to who is doing what that "death at an early age" occurs. This death, is the death of low expectations, based on racism, economic prejudice, and differing value systems.
When a child goes to school for the first time, he or she is invariably eager to be there. School is a great adventure. Within a few years that great adventure can become a drag. The child does not want to go, gets into trouble, "will not learn" or is branded "difficult" or "Special ed".
What is happening here? One or more of these things: The child is packed into an overcrowded classroom, with too few supplies. The child (especially boys) is expected to stay in his seat for long periods, when getting up and walking about is the natural thing for children to do. This walking about, spoils the "quiet atmosphere" of learning that schools seem to expect. He is designated as a child who "bothers other children", "talks out of turn", "is a difficult learner" and is headed for the write-off that usually happens to little non-white and poor white boys; that fills up the prisons all over the world. Sometimes, he talks to other children instead of paying attention.
If the teacher gets tired of trying to change his errant ways, she or he may attack the child based on his parentage, ethnicity, economic standing or other variable that contributes to learning. The next stage would be to castigate all children of the group into which the errant child falls, as if they were him, and to create a mental template of what a learner is and what a disruptive child is. This is the beginning of confinement into the prison of low expectations, from which he may never escape. The disruptive children are presumed not to want to learn for the following reasons:
"His no-good father is in jail, so what do you expect?"
"His mother has children for about five different men, next year; we'll get another just like him."
"His big brother was killed in a gang fight, since then , he's acting strange."
"I do not know what is going on in that house, and frankly, I don't want to know."
"I am not his social worker."
"His mother is on drugs (could also be big brother, big sister or father)."
"His drunken father beats up the whole family. What do you expect?"
(Gleaned from faculty conversations over a forty-five year period, in many parts of the world.)
All of these ought to be rescue imperatives- reasons to ensure that the child gets enough education to help him improve his life chances, but instead, they are often given as reasons why a child cannot learn. In fact, they are reasons prejudicial to the child, in which the teacher stands in judgment on the child and his "low class" or wrong ethnic group family, and consigns him to academic death at an early age.
Education as it is practiced in schools in Trinidad and Tobago, the USA and the UK, is a middle-class concept. All teachers want their pupils to be doctors, lawyers and engineers, computer specialists and designers, and the occasional movie star or sports-person. Some of their pupils will become teachers. Heaven help them if they use the model some of them see in front of them. Some teachers, in poor, urban and rural areas adopt the "I am only working here" attitude, and believe that the children will amount to nothing much, because of their circumstances. Some are just working until something better turns up, and let the children know this. The self-fulfilling prophecy causes the child to amount to not much. But what if they thought their children were destined to be the brightest stars in the firmament, and acted as if they were? What if they let them know this instead? What if they infused their classes with a sense of joy? What if the kids were allowed to walk about, when it was not recess? Startlingly good results could come from this kind of seeding.
All schools expect the parents to take an active interest in the academic life of the child, but is this realistic? Can a mother who is a maid, take time off, ride the bus, sometimes two busses, across town to sit in on her child's math class? Would she get paid by her employer if she did? That parent may love her child no less, but must make the economic decision not to come to 'Math Night' or report card day, because doing so will cut into the pittance that she earns, and her child may get less to eat as a result. Some parents will not come, because schools have always made them feel insecure. They did not do well in school, and schools found fault with them, when their parents came many years ago, so now, they are reluctant to go to school. It brings back bad memories.
School visits can become a joy for children and parent, if the child is allowed to choose some of the work the parent sees, and to delete some not so good pieces; if the child is allowed to clean up his work station, rather than the teacher saving the mess he made to show his parent. School visits can be a joy if children are encouraged to believe that this is an adventure we are on together; You, Me and Mom. If it's Mom and Dad, it's usually better, but nearly 50% of today's parents in the west, are single parents. Teachers must be conscious not to imply that single parent homes are somehow "broken".
School can be fun if children are allowed inputs into what they learn. Sure there is a curriculum, a broad guideline that teachers follow, but there is an "extension" part of that curriculum, where an interested teacher, collaborating with students, can create a lot of new ways to do things.
I recently taught my students various African rhythms that can be drummed on their desks. Children like to make noise. Why not let them learn controlled noise? We drum from time to time, for no reason at all, except that they like it, it breaks the routine, and it is noisy. They will work quickly if they can get to drum on the desks before we close. I develop memory and concentration by singing rounds where three parts of the class are singing different parts at the same time. We play the African game "Yan Kaloba"(www.universalhighways.com), which teaches teamwork, concentration and leadership, but is noisy, and we write. We write. We write.
I read a lot to them, items downloaded from the world's newspapers; that would have relevance to 13 year olds. I find material important to their immigrant background- they are all Latin Americans, and we discuss controversial issues of politics, that give them things to write about. We listen to music, so as to decide what music would we use if we were writing this incident into a movie.
At Christmas, we designed Christmas trees that included a crescent moon and star, Divali arches with lit deyas, a menorah and a canaria (Kwanzaa candle-holder) as decorations, and called it the Christmas tree of the future. (We did this long before the Rabbi in Seattle threatened a lawsuit because the holiday decorations excluded his religion.) We planned parties (as essays) that included awareness of everyone's food restrictions. These children will, hopefully, bring more sensitivity to the workplace of the future.
Teachers who want their children to be successful have to invest in them, invest in hope, love and better plans for their future. When my American friend, Ms. Wiley, met the children in the programme at Russell Latapy school, her first comment was, "What lovely children," she smiled at them, and worked with love. They smiled back. These are Laventille children.
Long ago, E. R. Braithwaite highlighted the problems of urban British schools in, "To Sir With Love." A number of similar books have shown the problems of American urban schools, Blackboard Jungle being perhaps the worst. Movies too, "Stand And Deliver," "Boston Public" and others. Some of them have portrayed the worst aspects of school, and students sometimes try to live up to what they see on the tube. What these books and movies do not spend enough time on, is the attitude of teachers who assume that children from backgrounds different from theirs are unable to learn, so why make the effort? They show the lone example of the enthusiastic young teacher who goes all out. He burns out, and things stay pretty much the same. He is replaced by another; who meets the same fate.
Yet, educators believe that every child can learn. Every child cannot master quantum physics, many will fail science because they cannot or will not dissect a frog. This does not mean they are failures in school, but that they need alternative routes to be successful. They should be given another opportunity, another alternative, to show what they can do.
Our liberation route to nationhood, as Trinidad and Tobago, and in fact most of the English speaking Caribbean and Africa, came through politicians who were doctors and teachers, and some were lawyers. We have clung to those models of success for too long. We need to expand what it means to be successful in school- in the arts, in social sciences- including learning to live in harmony with those that are different, in our tolerance of multiculturalism, and in our developing a sense of ethics that will guide responsible adult behaviour. The models of success still practiced in schools may be too narrow to encompass all of the world's children. We assign failure to too many who may be an Einstein, a Mae Jemison, a Peter Minshall or a Leroy Clarke – a talented learner who is differently abled, who does not fit the mold.
We must continually look at what it means to be successful in school, and ask if our children are experiencing it.