Trinidad Express
January 10th 2007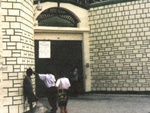 Opposition Leader Kamla Persad-Bissessar says killers should be hanged.
"I believe that we need to seriously examine the actual implementation of the death penalty.
"Yes, I am speaking about bringing back hanging. We live in drastic times now and drastic measures are necessary," she said at the United National Congress's Monday night People's Forum at Gasparillo.

Persad-Bissessar said it was past the stage of counselling hardened, cold-blooded killers and supporting them with taxpayers' money, as the People's National Movement government has done.
"We need to focus more on victims' rights and victims' needs," she said.
She said crime had reached such a state that criminals had made extortion a new business.
"Businessmen are being forced to pay these criminals bribes to keep them from murdering, or raping, or kidnapping their relatives,"she said, adding that it would take only drastic measures to deal with them.
"We are a nation under siege. While the criminals roam free in search of their prey, we huddle, petrified, behind burglar-proofed windows in self-imposed imprisonment," she said.
She said when the UNC was in government, it dealt aggressively with crime and that the party's current plans to solve crime included bringing in external experts.
This, she said, was the reason for bringing in former New York police commissioner Bernard Kerik.
Do you support hanging as a means of solving crime? Tell us what you think.
http://www.trinidadexpress.com/index.pl/article_news?id=161079737