Guardian Editorial
Published: 12 Jul 2009 – guardian.co.tt
www.trinidadandtobagonews.com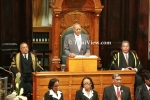 Senator Gail Merhair injured the public interest not for voting, as an Independent, in support of the Government, but for the reasons she has given.
An Independent Senator is answerable to no constituency, no parliamentary whip, or to any party-line enforcer. Appointed in the President's own, non-advised, wisdom, an own-way Independent Senator may pitch and roll indefinitely as a loose cannon aboard the ship of state.

Entitled to vote
Senator Merhair was unquestionably entitled to vote, as she did, in favour of the bill to postpone local government elections for a fourth time.
The Prime Minister himself had advanced arguments in support of the postponement. It was open to Senator Merhair to adopt those arguments, and to endorse not only the policy they promoted, but also the bona fides of those promoting it. She did not do so. "I do not condone what the Government is doing," she said. The use of "condone" conveyed her recognition that the Government was doing something wrong.
"It is undemocratic and unbearable," she added, "and it brings about a certain amount of anger, not only within myself, but within the people of T&T." She thus admitted to having been herself moved to justifiable anger by the Municipal Corporations Amendment Bill, 2009, and she acknowledged similar public responses.
The Independent Senator then proceeded to inflict injury on the public interest. She suggested that to withhold a vote effectively approving what she saw as wrong would be to "thwart" the will of the Government. For having been elected, she said, the Government was entitled to have its way. So she voted for legislation that had earned her own and the public's distaste.
Senator Merhair invented a fictitious duty that bound her as an Independent, to let the government of the day have the benefit of her own and the public's substantial doubt. The injury lay in the implication that even citizens as exalted as Independent Senators are obliged, ultimately, to defer to the declared interest of the executive. Such helplessness in the face of apprehended evil had, in fact, been learned.
Senator Merhair had been taught, she said, the advisability of such policy by the unnamed Senior-Counsel lawyer she had consulted. And, immediately, in T&T's public affairs, something snapped. The alarm sounded that people like herself, put in position of critical decision-making, are actually made of such insubstantial stuff as readily to become the dangerously unclued ciphers of those wielding power, and of their counsellors manipulating minds.
Such a realisation should cause President Max Richards to move swiftly to correct yet another proven bad choice he had made. If Senator Merhair could prove so susceptible to unsubtle pressure and self-serving bad advice, both the judgment of the appointing President and the advice later afforded her are called into question.
Voting intentions
Immediately suspect, in this context, is the advice to Independents, gratuitously proffered by Senate President Danny Montano, that they should not telegraph their voting intentions before arriving for debate. At the very least, Mr Montano, whose background is that of a former government Senator and Cabinet Minister, then and still now beholden to executive power, is eminently unqualified to advise Independents to restrict their freedom of speech.
As a Senator, yoked to the PNM party line, his own career has been marked by violation of what he now calls the "general principle not to anticipate certain events…and to come here with an open mind and an open heart." To Senator Merhair's wounding injury to the public interest last week, then, Senator Montano's suggestion adds only the egregious insult of hypocrisy.
http://guardian.co.tt/commentary/editorial/2009/07/12/montano-adds-insult-merhairs-injury
Trinidad and Tobago News Blog – URL for this article:
www.trinidadandtobagonews.com/blog/?p=1308