By Derren Joseph
June 06, 2009
Trinidad and Tobago News Blog
www.trinidadandtobagonews.com/blog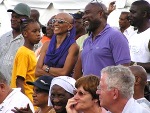 In difficult economic times, the sensitive issue of immigration tends to get even more sensitive. It is hard not to notice this. In England for example, there is much debate about an apparent increase in popularity of a far-right political party called the British National Party or the BNP.

logoThis right-wing political party is perceived as being intolerant of foreigners. In fact, the BNP is committed to "stemming and reversing the tide of non-white immigration and to restoring, by legal changes, negotiation and consent, the overwhelmingly white make-up of the British population that existed in Britain prior to 1948."
Moving back to our side of the Atlantic, we have noticed increasing coverage of the situation in Barbados. Guyanese nationals living in Barbados have been complaining about harsh and discriminatory treatment by Barbadian authorities. Nationals there have been calling upon Guyana's President, Mr Jagdeo, to intervene on their behalf. President Jagdeo has in return labelled Barbados' approach as un-Caricom.
Day labour
In the United States, the debate continues but appears a bit more balanced than before. This is at least partly driven by changing demographics (particularly the rising power of Latino voters) and continuing labour shortages in certain industries.
An article in the LA Times on May 7, notes that not even unemployed Americans seem to want to do farm work or day-labour jobs, at least not yet. Plus fewer foreigners are going to the US in search of work as they know that there are fewer jobs available. This reduced flow seems to be easing American anxieties somewhat. Here in sweet Trinidad, immigration has been getting some national attention as well, given the recent death of Guyanese construction workers and other issues. Discussion has to some extent even expanded to include all immigrant workers.
A couple weeks ago, I was listening to a talk radio programme while stuck in traffic and heard a local politician say something about keeping jobs for "our" people. This person also went on to refer to us (I guess he meant the Government) giving jobs to foreigners including people from China and so on. His comments really got me thinking. On one hand, we as a nation would like to see as many of our citizens who genuinely want a job, to have one. But on the other hand, where it becomes clear that no local has either the capacity or willingness to carry out a job–should it not be offered to someone else who can and would?
I suspect that few people would disagree with the above reasoning. If so, then I guess most of the disagreement would surround assessing whether locals lack the ability or willingness to carry out a given job, versus a foreign worker. To be honest, I consider such a debate to be a healthy and necessary one. What I do consider to be less than healthy is when that very fine line is crossed. A fine line over which we begin to sound like members of England's BNP quoted above.
In June 2007, then Illinois Senator Obama delivered a stirring speech in introducing an amendment to the Immigration Reform Act of 2007. He said:
"We live in a global economy, and I do believe that America will be strengthened if we welcome more immigrants who have mastered science and engineering. But, we cannot weaken the very essence of what America is by turning our backs on immigrants who want to reunite with their family members, or immigrants who have a willingness to work hard but who may not have the right graduate degrees. This is not who we are as a country."
Attract immigrants
I suspect that many of us would have little problem in replacing the name "America" with "Trinidad and Tobago" in the above quote. Yes, we have problems like most other places–we are by no means perfect. But despite our problems, we continue to attract immigrants from foreign shores looking for a better life. Immigrants looking for opportunity. Each and every one of us helps make this island the cultural melting pot that it is. And this weekend is extra special as we demonstrate our appreciation for the integral role that immigrants from the Indian subcontinent have played and continue to play in the development of our nation.
Trinidad and Tobago News Blog's URL for this article:
www.trinidadandtobagonews.com/blog/?p=1224