TrinidadAndTobagoNews.com Reporters
November 30, 2006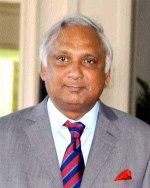 Chief Justice Satnarine Sharma has been charged and is now on $250.000 bail. The Chief Justice surrendered to the police to face charges following losing his appeal at the Privy Council. He maintains he did no wrong.
The media stood outside the home of the Chief Justice in Fairways, Maraval, awaiting the next move. At 12:45pm a car came up the driveway of the CJ's residence and a few moments later it sped away with both the Chief Justice and his wife inside.

Chief Justice Sharma was then taken to the Fraud Squad headquarters where he was processed. He then left for the Port of Spain Magistrate's Court where the charge of attempting to pervert the course of public justice was read to him.
The police claim that he committed four acts in a bid to secure a favourable ruling for former Prime Minister Basdeo Panday who was subsequently convicted on all three counts of failing to declare a London Bank account to the Integrity Commission.
The charge against the Chief Justice was laid indictably and bail was then fixed at $250.000. The matter was adjourned to January 5th 2007.
Also Read:
The Chief Justice loses at the Privy Council