TrinidadAndTobagoNews.com Reporters
November 30, 2006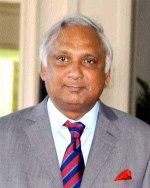 This morning Chief Justice Satnarine Sharma lost his appeal in the highest appellate court, the Privy Council, in London. Mr. Sharma's appeal was tried before five Law Lords arguing that the attempt to remove him from office was politically motivated by the Prime Minister, the Attorney General, the Director of Public Prosecutions (DPP) and the Chief Magistrate.
The Privy Council ruled that there was no evidence to prove that there was collusion involving the Prime Minister, the Director of Public Prosecutions, the Attorney General and the Chief Magistrate. They were not convinced that the Chief Justice's complaint could not be fairly resolved within the criminal courts.

The Law Lords said that although the Deputy DPP's arguments are attractive it is up to the courts to assume that the issue raised by the Chief Justice is true. The Law Lords said that in their opinion, the Chief Justice presented an arguable case and the evidence raised some important questions of constitutional law which demand further consideration.
The Law Lords said the Chief Justice was right in thinking that he had been threatened when the Prime Minister told him to demit office or face criminal charges. However, they said what is missing is evidence to suggest that there was any improper influence or conspiracy involving the Chief Magistrate, the Prime Minister or the Attorney General to prosecute him.
The Law Lords also said that up to this point there is nothing to suggest that the Prime Minister improperly sought to influence the outcome. The Law Lords said that they do not believe that the Chief Justice's complaints cannot be resolved within the criminal process and that this is not a case for Judicial Review but one to be heard before a Criminal Judge.
Chief Justice Sharma was ordered to pay cost.
The state can now move to arrest the Chief Justice without further interference.
Justice Sharma, who is accused of trying to pervert the course of public justice by attempting to sway the decision of Chief Magistrate Sherman Mc Nicolls in the Basdeo Panday integrity trial, went to the Privy Council and challenged attempts by the police and the Deputy Director of public prosecutions to arrest him.
Also Read: