By Stephen Kangal
March 17, 2020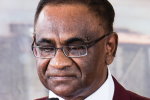 It is very clear that incumbent Guyanese President David Granger's current agenda is to use the third- appointed Caricom Observer but low level Team to rubber-stamp and add some "legitimacy" to his virtual "coup" attempt of the Guyana Elections 2020.
One must appreciate that this intervention Team was hurriedly constituted by current Caricom Chairman, Mia Mottley after all the accredited Observer Missions that witnessed the conduct of the March 2 elections as well as the three recounts of the Region Four poll, unanimously criticised that 'process' used by Returning Officer (RO) Vraimont Mingo as being illegal and lacking in both credibility and transparency.

The cadre of Observers left Guyana in abject disgust and revulsion to report to their principals.
One is also in a current dilemma whether the remit of the new Caricom, all-Afro- Caribbean Team is to supervise and /or observe the recount of the ballot boxes of Region Four or of all all Ten Regions, the results of nine of which were never in any contention.
One is also unsure of the Terms of Reference of the Team as to whether it is accredited under the requisite General Election (Observer) Act or the Constitution of Guyana. Both do not provide for any non-GECOM extra-territorial entity such as this Caricom Team to supervise the recounts according to a Guyana Chronicle Report today quoting eminent legal luminaries.
Having regard to the pervasive Indo-Afro ethnic sensibilities underpinning the Guyanese elections, the actual ethnic polarisation of the consequent results and this being Caricom's third intervention, one would have reasonably expected the appointment of a credible team of officials that would have and can resonate with and be bought into by all the multi-ethnic Guyanese people.
This Team was requested by President David Granger himself and apparently supported by current Opposition Leader Bharat Jagdeo.
This team has no institutional memory of the actual conduct of the elections as the departed Official Observer Teams possessed. It will be entering the Arthur Chung Conference Centre today unaware of the problems that besieged the aborted post-elections tabulation exercise that was blatantly manipulated by RO Mingo of Region Four.
This Mission cannot achieve the Mia Mottley's touted confidence building- scenario in the Guyanese electoral process because Granger will have none of it.
It is said that justice must not only be served – not delayed but it must be seen and appear to be done. This universally accepted and subscribed fundamental principle of jurisprudence was blatantly ignored in determining the composition of this Caricom Team unless President Granger also stipulated that it must be all Afro-Caribbean to harmonise with his clandestine agenda given the long, strong and loyal tentacles of Pan Caribbean tribalism that endows the Caribbean integration movement with an exclusive African orientation and flavour.