By Raffique Shah
February 10, 2020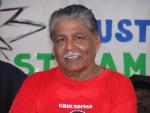 The recent announcement that the T&T Securities and Exchange Commission and Bourse Securities, Hassan Rahaman and Imtiaz Rahaman have reached an agreement whereby the latter three parties will pay the SEC $2.8 million pertaining to Hassan's purchase of 659,588 shares of First Citizens Bank during the July 2013 Initial Public Offering, prompted me to speak out on a related matter.

But first, I declare my interests. I have been a customer of the then FCB almost from its inception, partly because of convenience and partly because of patriotism (it is wholly owned by the government and people of T&T). My little savings are kept in that bank, I have enjoyed good service from its staff at the branch, and senior managers have been polite whenever I've had to interface with them.
Secondly, my daughter Leila was employed with the bank from the year 2000, shortly after she completed her A-level examinations, to 2014 when she resigned. Her resignation came after she was transferred from the Chaguanas branch to the El Socorro operations: getting to and from work became a traffic nightmare, so she chucked the job. I need add that all members of my immediate family also bank there.
When the IPO was first touted in early 2013, I paid close attention to the details. For several years, I had written stories and editorials for the Business Express, so I had become very informed about matters relating to the national economy, from the energy sector to banking and finance and much more. It was also shortly after I was diagnosed with Parkinson's disease, which meant that I was forced to slow down my work routine.
I supported the government's decision to divest close to 20 percent of the bank's shares, with institutions such as pension plans, credit unions, mutual funds and the National Insurance Board being allocated 60 percent of the 48 million shares on offer, with individual investors and the bank's employees being allocated 15 percent each, the latter at a 10 percent discount on the $22 price ($19.80).
With First Citizens being a financial success story, declaring handsome profits year after year, it was easy to predict that the IPO would be heavily over-subscribed. I hardly discuss job-related issues with my daughter and son. In this instance, though, with the divestment of shares in a state-owned enterprise being new, I thought I should offer advice to Leila.
When I asked how many shares she proposed to buy—employees could purchase up to 5,000 at the discounted price, and however many more they wished to at the offer price—she informed me that at her salary level, the bank would lend her $35,000 at a special rate, which was what she intended to invest. That would give her just under 2,000 shares. She did not plan to use her savings since she was continuing her academic pursuits privately.
Realising that she did not see the opportunity the IPO presented her, we discussed the matter thoroughly. After further discussions among the family, we decided to gift/lend her $65,000 so that she could apply for the full 5,000 shares she was entitled to. If or when she would repay us was not an issue. I had just gone past age 65, so I had some pension money in my account.
I had also warned her that the IPO will be substantially over-subscribed, so she may not get the full 5,000 shares she was applying for. I had mistakenly lumped the bank's staff allocation with the overall offer, which was indeed sought by all the usual investment companies and institutions, as well as thousands of individual investors.
So Leila did what was required and applied for 5,000 shares. As I recall it, on the Friday before it closed (the following Monday), she received a call from a senior member of the bank's management team while she was at work. The lady told her (not asked, or sought explanation) that she (Leila) was purchasing shares at the discounted rate for members of her family, which was forbidden. My daughter tried to explain to the manager that she was wrong to make such accusation, and how we became involved.
To cut a long story short, this individual who arrogated unto herself the power of knowing the family's intention by examining a simple transfer of money from one account to another, denied my daughter the right to apply for shares as an employee of the bank. Because she could hardly re-apply with one working day left, she did not get anything.
How many other employees were similarly disenfranchised? Surely, scores, maybe even hundreds did not buy shares, hence the inordinately large number left behind for those who had money to forage.
Also, the board and senior management must have known that salary-scales among the lower-to-mid-level employees were such that they simply could not afford the $100,000 required to buy 5,000 shares. Also, many who purchased will have received help from family.
So the real story was not about Leila and me. It is about the unfairness that ordinary people encounter when they make genuine efforts to uplift themselves.
Now, people who know me well must wonder how and why I did not say or do anything about that grave injustice to one of my own. I could have sought the intervention of managers senior to her. I could have cussed her. I could have written about it back then. But I went along with my daughter's uncharacteristic thinking: Karma would befall her—which it did, from what I heard. At least she got a small clout.
But the bank got a bigger blow in the form of the scandal that erupted over its decision to sell 659,588 shares from those allocated to employees to Hassan Rahaman. The transaction, which involved the then risks manager at the bank borrowing from family and family-owned businesses millions of dollars (he paid $14.5 million for the huge block of shares), must have been approved by executive managers, one of whom had earlier denied my daughter her right to bid for a petty 5,000 shares.
The scandal of how one manager was allowed, very legitimately, I need add, probably the single biggest block of shares in the IPO, must have also enjoyed the blessings of the board of directors, then chaired by attorney Nyree Alfonso. In fact, when the issue erupted in the media, Alfonso told the media that there was nothing wrong about it.
She said in February 2014: "The purchase of the shares is perfectly legitimate. It does not breach any regulations of the SEC. It does not breach any Stock Exchange regulations…"
Yet Bourse Securities, Rahaman and a relative paid the SEC $2.8 in an almost secretive arrangement. Very generous fellows. I am convinced, though, that the bank discriminates between first citizens and second citizens. My daughter and I fall in the latter.