By Stephen Kangal
May 15, 2019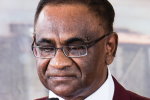 I was there at the Brian Lara Cricket Academy, Torouba on Friday 10 May to witness first hand with my colleagues Bedoor, Zainool and Ramlogan Mahabir, ball by ball the progressive demolition of the Presentation Chaguanas (PC) Team from the Caroni plains that dared to challenge the Hillview (HVC) side originating from the Northern Hills in the Finals of the T20 Secondary School Championships.

Hillview had earlier in the year won the League Championships that they did as well in 2018 defeating Naparima.
The victory following those of 2017 and 2018, was as sweet as it was surgical and swift. The Hillview faithful was there in their thousands to support their willow and leather machine flying the maroon and gold standard on the greens of the Tarouba oval.
I had no doubt that the Hillviewers would have successfully defended the 100 total spearheaded by a scintillatingly stylish 48 made by Kirstan Kallicharan who was declared Man of the Match and top scorer of the game.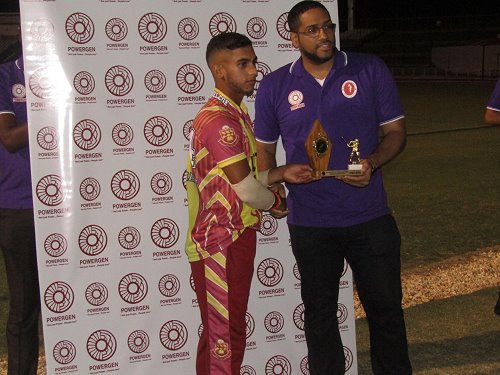 Kirstan Kallicharan (HVC) Receiving his Two Trophies
PC could only crawl at snail's pace to 87 when the final sacrificial rites were completed to release the vice grip and torture that Hillview had tied around their necks in spite of their well-coordinated rhythm section that could not re-float and salvage a sinking ship that had lost its rudder to HVC's economical bowling and fielding
The HVC triumph or three-peat accomplished with surgical precision and brimming confidence at Tarouba and embellished and powered the by HVC tassa and drums resonated to the hills of El Dorado Road, Tunapuna at around midnight that night.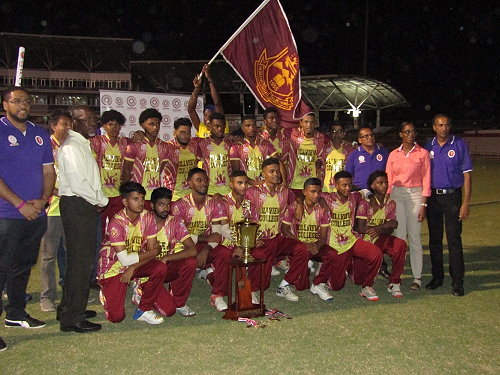 The HVC Victors
Hillview had played their cards right to the utter delight of the fans that came out in their thousands to witness the fight for College T 20 cricketing supremacy. In the end the maroon and gold of HVC prevailed on a high followed by wild scenes of unbridled jubilation and euphoria on the well-manicured turf of Torouba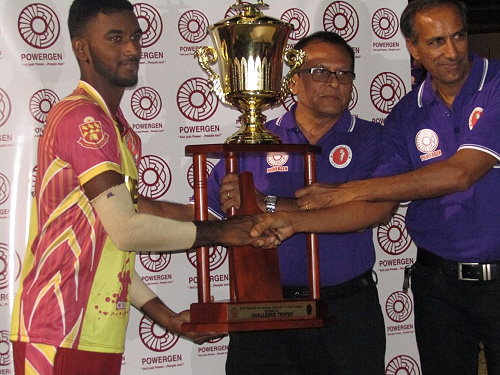 HVC Skipper Navin Bidaissie (left) Receiving the Championship Trophy from Powergen and Secondary Schools Officials after the match
Congratulations to HVC skipper, Navin Bidasse and his young but invincible warriors who made us very proud and stamped their invincible persona on the "doob" lawns of Torouba.
The BC Lara Oval looked greener at midnight because champions HVC fertilized, walked, ran and scored on this green and serene arena cricket theatre to the utmost delight of all us who came down San Fernando to enjoy the cricketing tempo served up palatably and elegantly by the Hillview brand of willow and white leather symphony.
PC was a good contender and took the fight to the boys from the Hill who never succumbed to the pressure.
Congratulations to both teams for giving us sustained and intense cricketing entertainment well past midnight in tranquil and isolated Brian Lara Cricket Academy that seemed to have embellished the declining Manning legacy.