By Danielle Frederick
May 22, 2018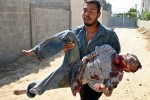 One would have hoped that a nation such as ours, created from genocide and enslavement, one which has felt the destructive, manipulative forces of colonialism would want to raise its voice clearly against war, oppression, exploitation of human beings and anything that threatens humanity. Alas not. The Trinidad and Tobago government has failed to issue any statement, whether in support or condemnation with regards to the actions of Israel against Palestinians. Being the descendants and continuing victims of white, male, Christian dominance and violence, it is hoped that we would come to our senses and stand for truth and justice, the foundation blocks upon which tyranny cannot stand.

The Beginnings
The creation of a Jewish homeland on Palestinian territory was motivated by the British Empire ensuring it had a grateful, complicit and loyal agent protecting its interest in the region. It was imperialism securing itself the only way it knew how, violently and irreverently. What we are witnessing is a continuation of white, Christian patriarchal dominance which brought us enslavement, colonisation and apartheid, all of which heap death, stagnation and removal of human rights from indigenous populations. The first suggested place for the resettlement of Jews was Uganda at the Sixth Zionist Congress at Basel on August 26, 1903. They also considered Canada and Australia, but they met opposition from local residents. Curious how the residents in Canada and Australia had a say on whether the Jewish resettlement should come to their home, but Ugandans and Palestinians weren't asked. It was the British, without consent or input from the Palestinians, who offered the Palestinian territories to the Jews in exchange for Jewish support during the First World War. This was to appeal to the goodwill of Russian Jews so that they would pressure their government to remain in the war and to garner support from the powerful American Jews. It also ensured that the Suez Canal, which is a connection between the Red Sea and the Mediterranean Sea i.e. trading access, be controlled by those favourable to the British interest within the region. Israel was created by the Balfour Declaration, not divine reckoning.
The Christian Connection
The justification used for this entire course of action is based on a religious claim that Jews are the 'chosen' people and they have not a moral, not a legal, but a spiritual right to Palestinian territory! The members of the Lloyd George English Cabinet fancied themselves as 'good Christian' lads who, understood that 'deep-rooted in the Protestant world is a sympathy with the idea of restoring the Hebrew people to the land which was to be their inheritance' (according to a memorandum to the then British Cabinet entitled Future of Palestine in 1915 by Herbert Samuel). Who wants to be the one to go against the Christian/Judeo god's plan, hence the tiptoeing around the subject by nations? Although most western countries are not governed by religious doctrine, many people are still guided by their Judeo-Christian sentiments that were instilled during slavery and colonialism. This now poses a challenge when one considers calling the Israeli government to account for its actions. This alleged spiritual right was first used by the British but has been amply exploited by the United States. Israel's support from the United States is a quid pro quo arrangement which sees the US providing Israel with not only economic and military aid but using its considerable VETO power within the UN Security Council in Israel's interest. Israel serves as 'America's aircraft carrier' according to later Republican Senator Jesse Helms in order for US to police the region. This relationship allows Israel to usurp land, murder Palestinians and stamp out any regional sympathisers or descent.
Trinidad and Tobago's Voice
Trinidad and Tobago would feel the full brunt of sanctions from the international community if it even thought of stepping outside of international treaties and conventions of which it is a signatory. Then why does Israel and the United States get to 'cherry-pick' what they adhere to? In fact, Trinidad and Tobago has been consistently pressured to lend support to the interference by the United States in the governance of a duly elected Venezuelan government and has maintained their stance on non-intervention into sovereign states' affairs. However, we are reaping the whirlwind of not taking a position with regards to Venezuela with the increased amount of illegal Venezuelans migrants and guns entering our country. Therefore, it can't be that we are afraid to at least say 'no' to the bullies on the international playground. We did it to the United States when we went against the Cuban embargoes and when we did not support their military invasion of Grenada. Yet we curiously won't raise our pens and voices in condemnation of Israel's actions!
What else can account for our obvious cowardice on December 21st, 2017, to abstain from a UN vote which called for the United States to withdraw recognition of Jerusalem as the capital of Israel? Our position, according to the press release, has always been in support of a two-state resolution. Therefore, how do we become selectively mute when the United States' actions can put that in jeopardy, increase tensions and lead to the loss of more lives, liberties and exacerbate a humanitarian crisis? A simple statement demanding a return to talks and the adherence to the United Nation's use of Lethal Force Policy would place Trinidad and Tobago in a moral, leadership position. Our selective mutism on Israel's actions is a loud support for colonialism and imperial rule.
When one's approach is because of flawed logic EVERYTHING that comes after will be flawed until the logic is corrected. Imperialist's aggression is not always physical, it uses economic aggression quite effectively. That aggression can also be seen locally when international companies 'negotiate' deals to do business in Trinidad and Tobago in ways which benefit their source economies more than they benefit the local. One such example is the case of ArcelorMittal and its response to a tribunal victory by workers after which they abruptly closed its plant leaving six hundred employees unemployed with no severance packages to ease the loss. It is the same mindset that developed racial stereotypes, taught them to the inhabitants of this twin island, reinforced it by their policies and structures for their own benefits and when they were done with us walked away leaving us in a quagmire of mistrust, resentment and falsehoods. Therefore, by speaking out against Israel's actions, rule breaking, and bullying, Trinidad and Tobago would also be making a statement on behalf of itself.
Pan-Afrikan Reasoning
Many of my Pan-Afrikanist Brothers and Sisters would argue 'why should we get into this conversation? We have so many things to lend our energies to both on the Continent and in the Diaspora, especially, notwithstanding all that they are going through, Palestinians, like others in the Arab/Muslim world possess an anti-black world view….' My response is simple: it is all connected. Kwame Ture stated that 'anti-zionism is the criteria by which Afrikans are measured politically. If one supports, aids and abets Zionism, they are in fact opposed to the interest of Afrikan people.' Malcolm X said 'Zionists believe their present occupation of Arab Palestine is the fulfilment of predictions made by their Jewish prophets. They also religiously believe that Israel must fulfil its "divine" mission to rule all other nations with a rod of irons, which means a different form of iron-like rule, more firmly entrenched even, than that of the former European Colonial Powers.'
We as Afrikan people are directly impacted by these behaviours, isms and actions of Israel. They are what allow the Dominican Republic to state with confidence and with no fear of repercussions that they have a system that causes a large portion of their population to have NO FRANCHISE, NO NATIONALITY, NO PROTECTION by the government of the state that they were born into, and that they will be deporting them to a place where they speak neither the language nor know. The same justification used by Israel is the same reasoning used by the Brazilian police for the genocide that they have engaged in on black people in Brazil, i.e, that people that don't look like and share the heritage of the ruling class should be exterminated without prejudice because it is a 'security' response. The same attitude that allows Israel to engage in apartheid is the same one that sustained first physical and now economic apartheid in Azania. And, I can go on and on. Therefore, we have an obligation to address this mindset. It is found in Israel.
Whose side are we 'leaning on'?
History will not look favourably on Trinidad and Tobago's silence with regards to these examples of oppressive, illegal and immoral actions by those governments. Our country has an opportunity to be known for more than Carnival, Steelpan, Soca and Natural Gas; it can also be known as a voice for truth and justice if it begins with the condemnation of this latest round of violence by the Israeli government. Why was it easier to stand against the embargoes on Cuba which is and has been morally and economically unjust, not to mention bullying, but we can't find our voice in this grave situation? If we are truly free to self-determine then that should be manifest in stances that reaffirm justice.
It has become a humanitarian imperative to remind Israel of the Balfour Declaration's caveat: 'it being clearly understood that nothing shall be done which may prejudice the civil and religious rights of existing non-Jewish communities in Palestine,' the very declaration that gave them life. Trinidad and Tobago can remind the Israeli people of the time they were subject to unjust actions by people that also thought that they were doing the will of their god by persecuting and exterminating them. The Trinidad and Tobago government can return some measure of humanity, though small, to the Palestinians as I am sure we would like given to us should we find ourselves in a similar position.