Trinidad Express
January 22, 2018 – trinidadexpress.com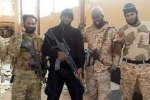 THERE ought to be no question that the authorities here must see the urgency of the need to establish effective safeguards for the preservation of national safety and security, with the return home of persons who were enlisted as members of the so-called Islamic State (ISIS).

A report carried exclusive in this newspaper on Sunday revealed that men, women and children who had gone to Syria and Iraq, some of them having joined the terrorist organisation, had returned to Trinidad and Tobago. On the heels of this, as reported in yesterday's edition, the Attorney General announced plans to bring legislation to Parliament to deal with this potential threat.
Major clauses in this proposed new legislation call for the imposition of million-dollar fines, and terms of imprisonment of up to 25 years, for persons leaving this country to undertake such ventures.
Full Article : trinidadexpress.com