Shots fired, debris thrown on highway after 2 arrested
By Ryan Hamilton-Davis
November 24, 2017 – newsday.co.tt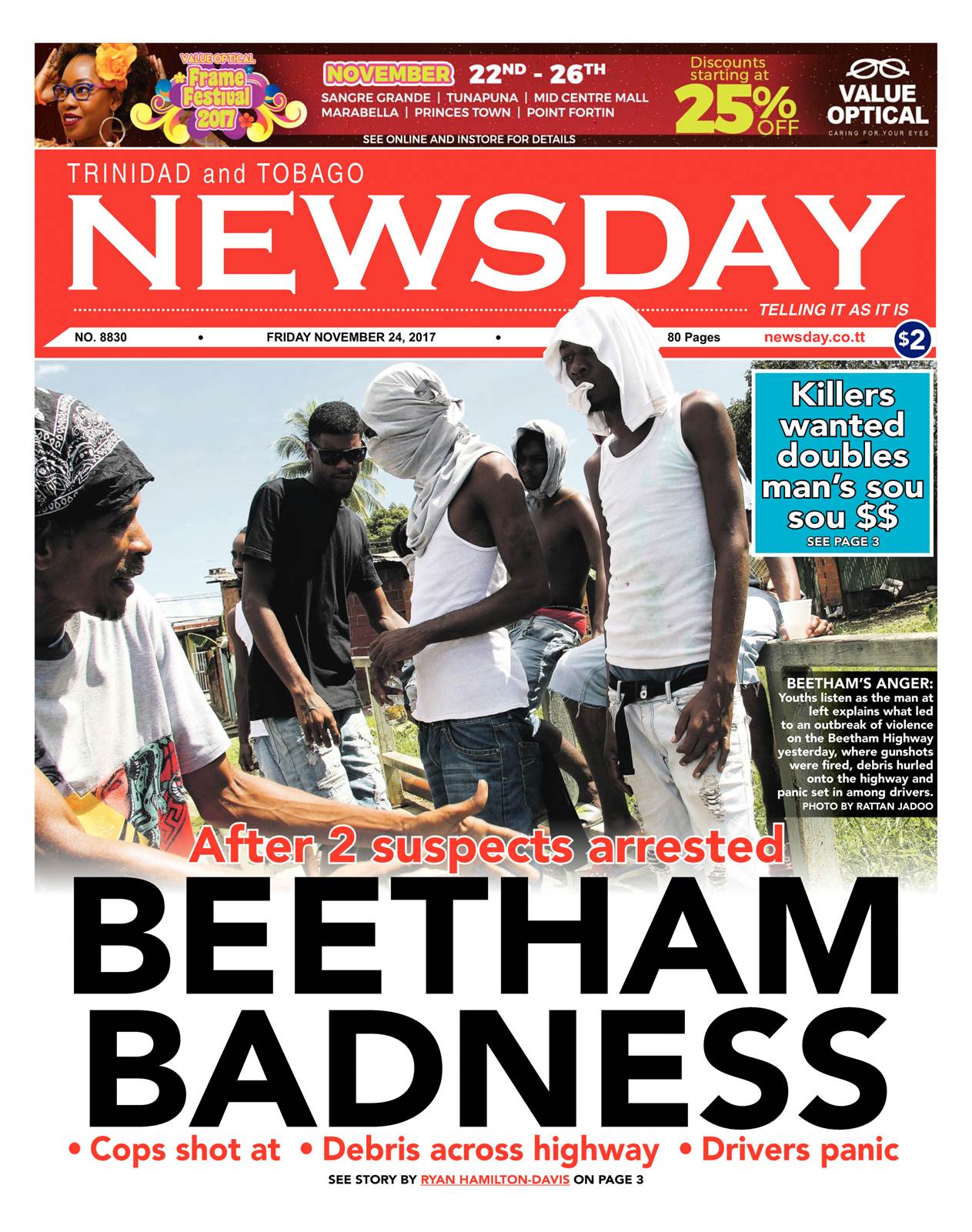 After the arrest of two of their own, Beetham residents vented their anger by throwing debris onto the highway and then firing shots when police arrived to clear the rubble and restore order.
What followed was hours of gridlock on the east-bound and west-bound sections of the highway, the Priority Bus Route and the Eastern Main Road.
Head of the Port of Spain Division, Snr Supt Floris Hodge-Griffith told Newsday she and her officers had to duck for cover when they were shot at on arriving at the Beetham. Hodge-Griffith said she was driving in a marked police vehicle on the Beetham Highway at about 10.45 am when she encountered the blockade.

She and another officer got out of the car and began clearing the debris when gunshots rang out. "We had to duck and take cover behind our vehicle while officers called for back-up," Hodge-Griffith said. Traffic came to a halt on the east-bound lane of the highway as some drivers, fearing being assaulted and robbed, turned their vehicles and proceeded west on the highway back into the city.
Full Article : newsday.co.tt
Also:
Rowley orders fight-back: 'Zero tolerance for lawlessness'
…'we are not going down this road any further'
PM to criminals: Your day will come
Prime Minister Dr Keith Rowley, in address to the nation, warned the criminal element and those seeking to support the criminal element by preventing the police in the execution of their lawful duty, that, "your day will come."
PM draws line in sand on Beetham anarchy
Prime Minister Dr Keith Rowley in condemning the lawlessness that took place in two Port-of-Spain communities on Thursday, and is warning criminals his Government will not tolerate anarchy.
Cops to hunt down Beetham badmen
…review of security camera footage
Robinson-Regis: We cannot condone this lawlessness
Criminals getting access to state $$
Criminal elements have been intercepting State resources directed to needy communities, Prime Minister Dr Keith Rowley said at a press conference yesterday.
Warner on Beetham crisis: black boys holding country to ransom
Former Minister of National Security Jack Warner criticised government for its failure to contain Thursday's Beetham protest, adding that it was unfair a handful of young men were holding T&T hostage.
No justification for terror tactics
THERE is no denying that the Beetham Gardens community has suffered abject neglect over the years, but that could never be justification for what transpired on Thursday morning when residents threw debris onto the Beetham Highway and Priority Bus Route and terrorised commuters on both roadways.