By Dr. Selwyn R. Cudjoe
November 20, 2017
PART 1 — PART 2 — PART 3 — PART 4 — PART 5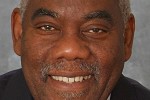 Things get mighty strange in T&T. Before President Anthony Carmona could wash he foot, he jump into de dance with the chiasmus: "I don't feel because there is a recession that we need to have a recession in education" (Express, November 11). It sounds noble but it does not amount to a hill of beans.
When there is a recession everything recedes including educational funding for the simple reason that the government or the stakeholder does not have enough money to pay for an expensive enterprise, particularly when monies extended to that enterprise may not have been used with the necessary circumspection. However, the President's statement sounded Solomonic in the presence of enablers of a seriously disabled system. They included UTT chairman Prof. Ken Julien, deputy chairman Prof. Clement Imbert, UTT president Prof. Sarun Al-Zubadidy, Education Minister Anthony Garcia and Chief Justice Ivor Archie.

How else can we interpret President Carmona's statement?
UTT came into being in 2004, quickly after Brian Moore and I broke the story, "Trinidad and Tobago Institute of Technology: A Racket Exposed" in 2003. In 2005, in his first presidential report, President Julien declared: "UTT was intended to expand the opportunities for the nation's youth for university level education and learning in applied sciences, engineering and technology…. UTT's strategic role in the national development was to support the needs of the national productive sectors adapting to the dictates of the international environment; provide a source of expertise that informed policy making in furtherance of national goals; and serve as a benchmark for research, learning and services delivery consistent with international standards and practice" (Trevor Boopsingh, From Oil to Gas and Beyond).
This generalization tells us little about the "national" character of our university. As formulated here, it sounds like a glorified technical school that is intended to provide the society with technicians to exploit our national resources: oil and gas. This was to be expected since our "national university" began as a company rather than as a university without the necessary board of trustees or board of governors to oversee its running.
Nor, for that matter did the university start, as most universities do, with a first-year class, expanding to second- and third-year classes as the university builds up its local capacity. Instead, like so many things we do, we believed we could buy anything and then ipso-facto, we would have a first-rate university, capable of offering advanced degrees in its early years. A university begins in 2004 but offers a doctoral degree in 2014.
Like everything else, we live in a hurry-up nation: we wanted to establish this university as quickly as possible and we had President Julien, the genius at hand, to do precisely that. Incidentally, it would be good to know when the company turned into a university and when the first board of governors was named.
In August 2008, I focused on the inadequacies of the UTT model that President Julien and his colleagues were developing. In the presence of Ghana's President John Kuffor who was visiting T&T, I argued that although UTT is designed to meet the needs of T&T for a highly qualified technological manpower base, "It should develop conscientious citizens who are good technicians rather than vice versa and there should be sufficient oversight to achieve this important national objective" (trinicenter.com, August 6, 2008).
Even though UTT's website argued it was an institution "with a different focus from traditional tertiary level institutions," I argued that this thrust was no different from the community colleges in the United States whose main purpose consists in transmitting "technical knowledge to future employees of the U.S. labor market" as Stanley Aronowitz suggested in The Knowledge Factory.
I argued that UTT should decide whether it wishes to develop "cutting-edge information specialists who may be lousy citizens" or whether it wished to develop well-rounded, purposeful citizens. I even placed the wisdom of Frank Rhodes, President of Cornell University, at their disposal. He said: "I believe the purpose of an undergraduate education is to develop a person of judgment, discernment, and balance, with professional competence in some specific area….We should strive to produce not only competent engineers, for example, but also engineers who practice their profession with a keen appreciation of the social, economic, and national environment in which they operate and with a sense of aesthetic scale and human proportion as well as the economic costs and benefits."
Nine years later, after the passing of two administrations, we still see the anachronism that passes for the goals of UTT: "UTT's primary focus is on the development of Trinidad and Tobago." Expanding on President Julien's utterances at his first presidential address, it continues: "Today's programmes, however, go far beyond engineering and technology to a fuller spectrum of educational opportunities where experiential learning programs are incorporated into the traditional learning environment."
UTT lists thirteen campuses within its fold. One is not sure how those units have been united into a harmonious academic whole. Yet, the question remains: Should UTT's students simply be exposed to a fuller spectrum of educational opportunities, or should there be more comprehensive objectives that create more conscientious citizens who happen to be good technicians?