By Jada Loutoo and Corey Connelly
October 20, 2017 – newsday.co.tt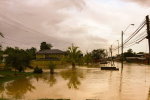 Large sections of Trinidad were swamped yesterday by flood waters which continued to rise in certain areas following over 24 hours of non-stop rainfall which began on Wednesday.
As a result, the Meteorological Service yesterday maintained its riverine flood alert for Trinidad especially as the Caroni River burst its banks shortly after midday. In its 9.12 am bulletin, the Met Office advised that as opposed to street and flash flooding, riverine flooding is more prolonged and widespread.

It also reported that water levels in some major rivers as well as their tributaries reached threshold levels overnight and the flood situation would be exacerbated by rainfall yesterday accompanied by gusty winds. "(With) the occurrence of high tide at 3.50 pm, the flooding situation is expected to continue for the next 12 to 24 hours in areas already affected," the bulletin said.
Full Article : newsday.co.tt
~~~~~~~~~~~~~~~~
Flood waters rise quickly in South: Residents reeling
It was hard to tell the roads from the rivers and drains yesterday. But the frustration and despair etched on residents' faces told a story of the hardship to come.
Heavy agricultural losses
Acres upon acres of crops were submerged in filthy water in Penal and Barrackpore yesterday as a result of overnight and persistent rains during the day.
Drivers stranded for over 5 hours
Those were some of the remarks made Wednesday night by motorists who were among thousands stranded along the Sir Solomon Hochoy Highway, Chase Village, due to severe flooding caused after a nearby river burst its banks.
Floods from Coast To Coast
Three days of persistent rainfall has led to this developing disaster in villages and communities located in low lying areas or near rivers that have broken their banks.
Soldiers deployed as 200 'rescued'
The ODPM wants to update us: Press conference called