By Raffique Shah
September 07, 2017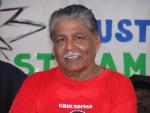 No one has challenged Opposition Member of Parliament Roodal Moonilal's assertion that the arrest and indictment of former Attorney General Anand Ramlogan last week was a "distraction by the PNM". Moonilal is reported to have said: "…This is the modus operandi of the PNM, whether it is Basdeo Panday, Vijay Naraynsingh, Sat Sharma…to harass, to intimidate, to oppress and suppress independent voices against the PNM and their government…"

In the fog of permanent political warfare that has long been a feature of our national landscape, campaign-style rhetoric in which politicians make wild, unsubstantiated charges against each other, I suppose most people have chosen to ignore Moonilal. Others fear a tribal backlash if they speak out or write about what is clearly political mischief.
In an issue as important as allegations of manipulation of the criminal justice system by any government, I will defend to the death a person's right to expose or criticise what would be tantamount to a criminal act. Equally, if a critic uses the right to freedom of expression to distort the facts or blatantly lie, I will condemn him, damn the consequences.
The notion that the ruling PNM had anything to do with the arrest of Ramlogan, its timing and execution, is repugnant to our Constitution, to the separation of powers enshrined therein. However lame a democracy we live in, whatever the weaknesses of the judiciary, the Police Service, the executive (Government and Parliament) and other State institutions, we enjoy significant insulation from dictatorial tendencies.
What are the facts in the Ramlogan issue? The first hint that something was amiss was when, in January 2015, news broke that the relatively unknown attorney David West, who had been appointed chairman of the Police Complaints Authority, had reported to the police that then AG Ramlogan had sought to have him withdraw a witness statement he had tendered in a civil defamation lawsuit the AG had filed against then Opposition Leader, Dr Keith Rowley.
Without delving into details, but relevant to the issue I am addressing, Ramlogan publicly proclaimed his innocence. However, weeks later, then Prime Minister Kamla Persad-Bissessar, fired Ramlogan as AG, as well as then National Security Minister Gary Griffith, who admitted to have also tendered a statement in the defamation case.
Now, a prime minister does not casually dismiss an AG who had served for close to five years, and more than that, mere months before she was constitutionally bound to call a general election. When this drama unfolded, Moonilal was a senior member of Cabinet and leader of Government business in the House.
Did he raise hell with the PM over Ramlogan's sacking? Did he even counsel her against taking such drastic action against his friend and comrade? Not as far as I know. So when he had political influence, he did nothing. In fact, none of the then heavyweights who are today crying crocodile tears for Ramlogan spared him even a thought then.
Fast forward to recent months when we became aware that the police were actively conducting investigations—three years after the report was made. The police searched the home of the former reporter who first broke the story, seizing a few electronic devices for scrutiny. Then last week they swooped down on Ramlogan in the way they are accustomed to—oversized posse, fully armed, flashing lights, in pre-dawn hours, all unnecessary, but all police-style.
Where did the Rowley Government feature in all of this? I'd be surprised if the PM or the Minister of National Security knew beforehand of the state of the investigations, far less details of the arrest. The two charges Ramlogan faces, misbehavior in public life and obstructing justice, cannot be remotely deemed of interest to national security, hence engage the attention of the PM, the line minister or the National Security Council.
In Moonilal's warped logic, he sees the hand of the PNM manipulating the police, maybe even the office of the Director of Public Prosecutions, both of which are supposed to be independent arms of the criminal justice system.
I am not suggesting that over the years, politicians in power have not sought to influence police and other judicial officers. In fact, having held high political office, Moonilal may have personal knowledge of such attempts, or actual interventions—I don't know.
In a country as corrupt as Trinidad and Tobago, I am putting my head on the block for no one: we are corruptible from top to bottom—a mantra I find myself repeating almost every time I write.
Still, we must have faith in some individuals and some institutions. Ramlogan said, after his court appearance, that the truth will set him free. If he felt that the PNM was behind his prosecution, he would never be so confident.
Moonilal, seeking to ride Ramlogan's wagon for all the political mileage he can gain, will no doubt be happy if the ex-AG's misfortunes multiply…think of the potential of a jail-term, picketing the prison…wow!
With friends like Moonilal, Ramlogan does not need the PNM…er, enemies.