By Alexander Bruzual
January 23, 2014 – newsday.co.tt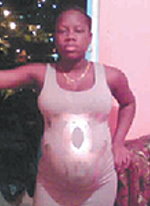 A mother of a six-week-old girl. An aspiring interior designer. An avid lover of steelpan.
All these things, and so much more, described 15-year-old Aleah Cain who was brutally gunned down on Tuesday night along Belmont Circular Road, Belmont mere moments after she left her home at Farrell Lane to get something to eat, despite protests from her mother.
"Aleah was sitting with me at home helping me comb my hair, when she suddenly tell me she was hungry, and she wanted food. I tell her we had bread and butter, and small stuff at home, but she said no, she wanted something different, so she going to the shop. I tell her, 'Aleah, look at the time, it's after 10!' But she said she didn't want the food at home, and she would go out and get something," Aleah's mother Lauren recalled yesterday.
Continue reading 'Mom, 15, shot dead'