By Alexander Bruzual
January 23, 2014 – newsday.co.tt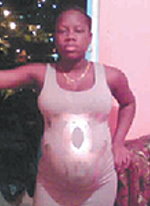 A mother of a six-week-old girl. An aspiring interior designer. An avid lover of steelpan.
All these things, and so much more, described 15-year-old Aleah Cain who was brutally gunned down on Tuesday night along Belmont Circular Road, Belmont mere moments after she left her home at Farrell Lane to get something to eat, despite protests from her mother.
"Aleah was sitting with me at home helping me comb my hair, when she suddenly tell me she was hungry, and she wanted food. I tell her we had bread and butter, and small stuff at home, but she said no, she wanted something different, so she going to the shop. I tell her, 'Aleah, look at the time, it's after 10!' But she said she didn't want the food at home, and she would go out and get something," Aleah's mother Lauren recalled yesterday.

Aleah left her newborn daughter Sophie with her mother and went out with a friend. A short while later, Lauren, a mother of four, received the heartbreaking call informing her that her daughter was dead.
According to police reports, at about 11 pm, Cain, went to a parlour along the Belmont Circular Road in the company of 20-year-old Odelle Charles. Outside the shop was a small group of friends who were liming along the roadway. As they were exiting the parlour, the occupant of a vehicle parked nearby rolled down the window, pulled out a firearm and shot in the direction of the parlour, before driving away.
Charles soon realised that Cain had fallen to the ground, and was bleeding from two injuries, one to her chest and one to her right arm. No one else was injured. The police were notified, as well as emergency health services, and Cain was rushed to the Port-of-Spain General Hospital. However, she succumbed to her injuries while undergoing treatment.
Her body was taken to the Forensic Science Centre, St James, where an autopsy was performed yesterday by Dr Valery Alexandrov. The autopsy showed Cain died as a result of the gunshot injury to her chest.
Lauren said she was still in a state of shock over the loss of her daughter and she had yet to sleep.
"My heart feeling like it's been ripped in two. I am angry, I am hurt, I am sad, I am distraught," she lamented. "Criminals running rampant, war going on, and it is innocent people like my daughter who are getting caught up. Imagine that, she went to the shop for food! She wasn't in any gang. She wasn't in criminal activities. It wasn't even the company she was with. They shooting at a group of people, and she get lick down in the process. That is madness!" Lauren exclaimed.
Lauren said the incident was even more painful, as on Monday last, she and her daughter had a conversation about death.
"She had told me on Monday that she was afraid to die. It was just in random conversation, where she was realising that she had her daughter and she was hearing all this crime going on in the news, and she made the statement. I told her death was nothing to be afraid of because we all had to meet it, and that when you die, it simply meant that you would no longer be feeling pain. So for whatever pain she may have experienced in this life, I hope that is true," Lauren said.
She noted the 15-year-old girl was an avid lover of pan, and would frequently play with the Farrell Lane City Kids group, noting she was even expected to go to the panyard yesterday afternoon.
Lauren also said while she did not approve of her daughter's decision to engage in sexual activities at such a young age, which resulted in a pregnancy at 14, she supported the young mother through her trimesters.
"When she was pregnant, I didn't know until she was about five months. Of course I did not approve and was exceedingly upset like any other mother would be, but she was my child, and I couldn't put her out. I loved her, and I supported her through it all. I went with her through her clinics and various classes, and was by her side when she went into labour and was there when she gave birth to my granddaughter, Sophie.
"And now with all of this happening, I will look after Sophie. I love her like my own. Right now it come like Aleah made that child for me, and as I love all my children, I will treat Sophie the same way," Lauren promised.
Cain is the first minor, under the age of 18, to be killed this month, but is the fifth female murder victim.