DAILY NEWS
AMAZING WAYNE
Monday, October 20, 2014
IMMIGRATION AT FAULT
Sunday, October 19, 2014
DEBATE EBOLA NOW
Saturday, October 18, 2014
NO ENTRY
Friday, October 17, 2014
T&T opts for quarantine
Thursday, October 16, 2014
NESC stops African batch of students
Wednesday, October 15, 2014
Khan's claim irks Wayne's family
Tuesday, October 14, 2014

Headlines

ARTICLES & LETTERS
The Responsibility of Intellectuals
Thursday, October 16, 2014
CAPE TECTONICS AT HILLVIEW
Thursday, October 16, 2014
Establishment of the North Caroni Growth Pole
Sunday, September 7, 2014
What About Dat Sex Ed Ting Jred?
Thursday, September 4, 2014
Manning Drifted Off on A Pathetic Political Tangent
Tuesday, August 26, 2014
Balancing the Scales of Reparatory Justice
Thursday, August 21, 2014
Prof. Deosaran resigns from Police Service Commission
Wednesday, August 6, 2014

Articles

International Opinions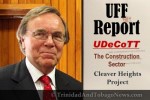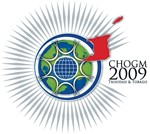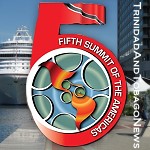 AFRICA (Video)

The Great African Scandal (Video)
Robert Beckford visits Ghana to investigate the hidden costs of rice, chocolate and gold and why, 50 years after independence, a country so rich in natural resources is one of the poorest in the world...
Continue to Video




COCO Dance Festival 2014 Media Launch
By TriniView Reporters - Event Date: Sept. 22, 2014
On Monday 22nd September, 2014, the Contemporary Choreographers' Collective (COCO) annual Dance Festival was launched at the Résidence de France in Port of Spain. Guests were greeted by Ms. Amba Revillac and Ms. Celine Singh and engaged in tête-à-tête while they enjoyed cocktails and sauntered along the latticed verandah.



News and Commentaries from Various News Sources in T&T

AMAZING WAYNE
Posted: Monday, October 20, 2014

AMAZING WAYNE
Kublalsingh's wife: I cannot understand how he can survive without water or food... ...while Ravi collapses

PRESIDENT SIGNS EBOLA ORDER
A move which now authorises State officials to take action as required to stem the disease.

Ravi collapses after five days
COUNTER hunger-striker Ravi Maharaj, five days into his protest against Dr Wayne Kublalsingh's action, collapsed yesterday morning and had to be taken to Port of Spain General Hospital.

Government to Ravi: Leave highway to us

Probe source of anti-Kublalsingh ads—Abdulah

Nigerian woman denied entry into Trinidad
As the Government's ban on travel into this country of persons from five African nations currently in the grip of the worst ever Ebola epidemic took effect.

Second Muslim leader banned from Jamaica

Govt 'won't borrow money'
As crude oil prices plunge...

'No nod for Glenn'
Caroni Central MP Dr Glenn Ramadharsingh has refused to say whether he will be contesting the next general election as an independent candidate.

'India can learn from T&T's Divali celebrations'
Indian High Commissioner Shri Gauri Shankar Gupta

PM a bright light for T&T, says Moonilal

PNM's Divali 'stormed out'
INCLEMENT weather, described by some persons as "a storm" led to the forced cancellation

Stalin 'moving around' at home
AILING calypsonian Black Stalin (Leroy Calliste), who suffered a stroke three weeks ago, is recovering at his home in San Fernando.

$M drug bust at sea, 1 detained
OVER $2 million in cocaine and marijuana were seized following a highspeed chase between officials of the Coast Guard and drug smugglers on the weekend.

Police Service tests its 'use of force' policy in table-top exercise
THE Trinidad and Tobago Police Service (TTPS) continued its bid to enhance policy and operations as it relates to "use of force in law enforcement"





Send page by E-Mail


Loading
October 20, 2014
Posted: Monday, October 20, 2014

Luxury hunger strikes
By Marion O'Callaghan

The price for progress
By Keith Subero




Send page by E-Mail

October 19, 2014
Posted: Sunday, October 19, 2014

Ebola: panic paralyses nation
By Raffique Shah

Citizen 6156
By Andre Bagoo

Posing and other agendas
By Martin Daly

Death: Freedom to choose?
By Selwyn Ryan

Imam caught in twin terrors of today travel
By Lennox Grant

Re-thinking Integration
By Sunity Maharaj




Send page by E-Mail

October, 18, 2014
Posted: Saturday, October 18, 2014

T&T, Jamaica and regional disintegration
By Indira Rampersad




Send page by E-Mail

Ocotber 16, 2014
Posted: Thursday, October 16, 2014

The responsibility of intellectuals
By Selwyn Cudjoe




Send page by E-Mail

October 15, 2014
Posted: Wednesday, October 15, 2014

Pain and ugly politics…
By Rickey Singh




Send page by E-Mail

October 14, 2014
Posted: Tuesday, October 14, 2014

Be careful, not paranoid
By Jean Lowrie-Chin

Exponential Ebola
By Gwynne Dyer

Give restorative justice a chance
By Anthony Carmona




Send page by E-Mail




Support TriniView


To send comments, articles and suggestions or to report errors,
.
If you want your name withheld from publication, please state so in your submission and supply a
nom de plume.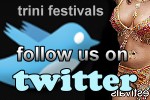 Contact Us
trinidadandtobagonews

Postal Address:
Trinidadand
TobagoNews.com
P.O. BOX 6505
Maraval,
Trinidad and Tobago,
West Indies.

Phone:
1-868-628-0905