DAILY NEWS
JAIL FOR BOBOL
Wednesday, December 17, 2014
'THIS SERIOUS'
Tuesday, December 16, 2014
PASTOR WANTED
Monday, December 15, 2014
Three gunned down
Sunday, December 14, 2014
WAR VET FOUND...IN US
Saturday, December 13, 2014
SANDRA'S TEARS
Friday, December 12, 2014
CUTBACKS
Thursday, December 11, 2014

Headlines

ARTICLES & LETTERS
Taxpayers Must Intervene in the Curepe Interchange
Friday, December 12, 2014
Celebrating the Legacy of the late Panalal Mahadeo
Thursday, December 4, 2014
Decoding racial tensions in United States
Friday, November 28, 2014
Disastrous Flooding in Manzanilla
Wednesday, November 26, 2014
Decline of Our Diplomatic Relations
Wednesday, November 26, 2014
PP's Industrial Transfusion to Caroni
Thursday, November 20, 2014
Rowley's attempt to woo Indian vote
Monday, November 10, 2014

Articles

International Opinions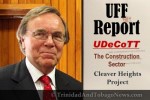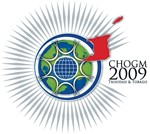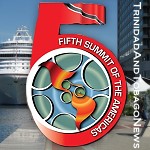 AFRICA (Video)

The Great African Scandal (Video)
Robert Beckford visits Ghana to investigate the hidden costs of rice, chocolate and gold and why, 50 years after independence, a country so rich in natural resources is one of the poorest in the world...
Continue to Video




SHAKTIYANA – The Primordial Energy
By TriniView.com - Event Date: Oct. 11, 2014
On Saturday 11th October, 2014, Nrityanjali Theatre (Institute for the Arts and Culture), in collaboration with Mahatma Gandhi Institute for Cultural Co-operation, hosted its annual Classical Indian Ballet.



Flooding in Manzanilla
By TriniView.com - Event Date: Oct. 31, 2014
On Monday 17th November, 2014, a Trinidadandtobagonews.com reporter visited the Manzanilla/Mayaro road which flooded and collapsed due to erosion caused by consistent rainfall, high tide conditions and the overflowing of the Nariva Swamp.



President's 2014 Calypso Reception
By TriniView.com - Event Date: Oct. 31, 2014
On Friday 31st October, 2014, President's Annual Calypso Reception was held at the National Academy for the Performing Arts. Decorators for the event had done a remarkable job as gold covered tables stood at intervals accentuated with lovely, fresh floral arrangements...



COCO Dance Festival 2014
By TriniView Reporters - Event Date: Oct. 03, 2014
On Monday 22nd The Contemporary Choreographers' Collective (COCO) Dance Festival opened in Queen's Hall on Friday 3rd October, 2014, for its sixth annual showcasing of dance pieces from across the Caribbean and around the world.



Cubes in Space 2014 Awards Ceremony
By TriniView Reporters - Event Date: Aug. 26, 2014
On September 26th 2014, Trinidad and Tobago was the host of the Cubes in Space awards ceremony which was held at the residence of the Canadian High Commissioner in Fairways, Maraval...



News and Commentaries from Various News Sources in T&T

JAIL FOR BOBOL
Posted: Wednesday, December 17, 2014

JAIL FOR BOBOL
Anti-corruption bill finally passed in Parliament

Ministry orders review of SPORTT audit

Energy Chamber says oil price decline 'worrying'

Dipping into HSF would be last resort says Howai
Government has no intention to dip into the Heritage and Stabilisation Fund (HSF) at this stage and might only look to this as a last resort if it has to address a particular situation

Oil $ slide won't affect hospital
Two major projects, the Point Fortin to San Fernando highway and the Point Fortin hospital, would not be affected by declining oil prices which have been falling since late June, 2014.

Economist: 13% offer to PSA is generous

PM defends hamper drive for vulnerable
Decision to host a Christmas hamper drive for the needy at the Diplomatic Centre in St Ann's today, saying the move was in keeping with her promise to open up the facility to citizens

Mark seeks autonomy for 'part-time' Parliament
THIS COUNTRY has a "part-time" Parliament that remains depen­dent on the executive arm of the State, the very body it is meant to oversee, House Speaker Wade Mark has said.

Customs to move into new offices next month

Al-Rawi: Remove PM's picture from billboards
Government's cost-cutting measures should include removing the Prime Minister's picture from various items, including billboards, mugs, pictures, cards and vouchers. PNM Senator Faris Al-Rawi said so yesterday

PM's photos everywhere 'just like Saddam's were'

Tewarie: I don't understand why PNM did not vote
Procurement bill

Exhibition on 33-year career of Machel
The Montano family on Monday night unveiled an exhibition of archival artefacts covering the 33-year career of Machel Montano.

Kamla: Manzanilla-Mayaro road to be reopened shortly

My body won't last
Kublalsingh awaits Privy Council decision:

Ministry launches 'Victim's Handbook'
...advising people who have been victims of abuse and crime how they could seek help, and also bring perpetrators to justice.

Griffith: Crime not cultural

Schoolboy 10 shot by stray bullet
A TEN-year-old student of the Rosary Boys' RC school was shot in the right leg while on the school's compound on Saturday.

Dad shot while driving, dies before reaching hospital
A MAN is dead after he was shot early yesterday morning while in a car with his common-law wife and two children, an 11- year-old boy and one-month-old girl.

Attacked by prisoners, Azmon treated for broken nose, stab wound
Prisoner justice

'Plot' has prison officers jumpy
Document discovered which contained information pertaining to attacking certain prison officers and making improvised explosive devices

'Use free police escort to the bank'
Chinese national robbed...

Mom of 11 who abandoned 5 of her children for sentence Jan 27

Man killed, wife wounded in St James shooting
A 29-year-old man was shot dead yesterday morning in St James, pushing the murder toll to 396.

Truck driver serving jail time
2 killed in hit-and-run...




Send page by E-Mail


Loading
December 17, 2014
Posted: Wednesday, December 17, 2014

Caricom's loss, Africa's gain
By Rickey Singh




Send page by E-Mail

December 15, 2014
Posted: Monday, December 15, 2014

The Greyfriars Church
By Marion O'Callaghan

Priorities for picking a probe
By keith Subero




Send page by E-Mail

December 14, 2014
Posted: Sunday, December 14, 2014

Slaves to digital devices
By Raffique Shah

Guyana, not Ghana
By Martin Daly

Obama in post-Black America
By Selwyn Ryan

Oily damper on reason for season
By Lennox Grant

When Manning met Rowley
By Andre Bagoo

The Many Shades of Corruption
By Sunity Maharaj




Send page by E-Mail

December 11, 2014
Posted: Thursday, December 11, 2014

When, the next general election?
By Winford James

Procurement and the public service
By Reginald Dumas




Send page by E-Mail

December 10, 2014
Posted: Wednesday, December 10, 2014

Barbados 'ultimatum' politics
By Rickey Singh




Send page by E-Mail

November 09, 2014
Posted: Tuesday, December 9, 2014

That may not be diversification
By Mary K King




Send page by E-Mail




Support TriniView


To send comments, articles and suggestions or to report errors,
.
If you want your name withheld from publication, please state so in your submission and supply a
nom de plume.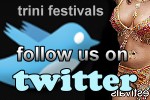 Contact Us
trinidadandtobagonews

Postal Address:
Trinidadand
TobagoNews.com
P.O. BOX 6505
Maraval,
Trinidad and Tobago,
West Indies.

Phone:
1-868-628-0905