In a moment of candor, Joe Biden has revealed why the U.S. needed the Russian invasion and why it needs it to continue, writes Joe Lauria.
By Joe Lauria
Special to Consortium News
March 27, 2022 – consortiumnews.com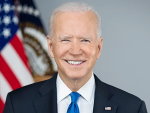 The U.S. got its war in Ukraine. Without it, Washington could not attempt to destroy Russia's economy, orchestrate worldwide condemnation and lead an insurgency to bleed Russia, all part of an attempt to bring down its government. Joe Biden has now left no doubt that it's true.
The president of the United States has confirmed what Consortium News and others have been reporting since the beginnings of Russsiagate in 2016, that the ultimate U.S. aim is to overthrow the government of Vladimir Putin.

"For God's sake, this man cannot remain in power," Biden said on Saturday at the Royal Castle in Warsaw. The White House and the State Dept. have been scrambling to explain away Biden's remark.
But it is too late.
"The President's point was that Putin cannot be allowed to exercise power over his neighbors or the region," a White House official said. "He was not discussing Putin's power in Russia, or regime change."
On Sunday, U.S. Secretary of State Antony Blinken said, "As you know, and as you have heard us say repeatedly, we do not have a strategy of regime change in Russia, or anywhere else, for that matter," the last words inserted for comic relief.
Biden first gave the game away at his Feb. 24 White House press conference — the first day of the invasion. He was asked why he thought new sanctions would work when the earlier sanctions had not prevented Russia's invasion. Biden said the sanctions were never designed to prevent Russia's intervention but to punish it afterwards. Therefore the U.S. needed Russia to invade.
"No one expected the sanctions to prevent anything from happening," Biden said. "That has to sh- — this is going to take time. And we have to show resolve so he knows what's coming and so the people of Russia know what he's brought on them. That's what this is all about." It is all about the Russian people turning on Putin to overthrow him, which would explain Russia's crackdown on anti-war protestors and the media.
Full Article : consortiumnews.com
Poland's Covert War on Ukraine w/Michael Tracey
mARCH 28, 2022

The Grayzone's Anya Parampil is joined by journalist Michael Tracey for a live discussion of his trip to the Polish-Ukrainian border, where journalists alike have been blocked from receiving information about the network of US bases and escalating presence of American troops as President Joe Biden clamors for regime change against Moscow.