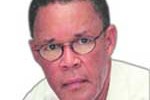 Chairman of the Integrity Commission Fr Henry Charles last night admitted that he had made a mistake. But he stressed that he had gone public with his error in his last column in the Guardian and had told President George Maxwell Richards about it before his appointment to the commission.

The apparently never-ending controversy in relation to the Integrity Commission yesterday descended on the head of Charles, whose chairmanship was greeted with such acclaim, with a letter from to the editor from newspaper columnist Kevin Baldeosingh, which made certain allegations against Charles.
Baldeosingh claimed that there was such a marked resemblance, that it tended to rule out the possibility of coincidence, between two newspaper columns written by Charles published in the Trinidad Guardian and two articles published in foreign journals- New York Times and America: the National Catholic Weekly.
Charles told the Express that the matter was brought up with the President before his appointment. 'I told him that this may come up in the press, you need to know this before you go further with my appointment and I explained to him the circumstances and he said it was not enough to keep him from going ahead with what he wanted to do. So it was not as though it was unknown. The President was fully informed about it and said 'it didn't matter'. And I told the President that if he had the slightest reservation in the light of that, I would step aside immediately. He said 'no. These mistakes do occur, especially with academics' and he went ahead (with the appointment). I told Mr Baldeosingh that himself, but that was clearly not enough to stop him (Baldeosingh) from doing what he wanted to do,' Charles said.
Apart from writing to Baldeosingh, Charles said he wrote to the editor of the Guardian, Mr Wilson, and Mr (Lennox) Grant. 'And I put a disclaimer at the end of my last article in the Guardian, saying that my mistakes are acknowledged to all the readers. And I said I was making public what I disclosed to Mr Baldeosingh in private. If you go back to the last article I wrote in the Guardian, you would see all of that. And in addition I brought the matter up with the President…I told Mr Baldeosingh all of that. I told it to Mr Wilson. So I don't see what else I could have done. It is not as though I didn't acknowledge my mistake or that hid from it.'
'It is not as though I let things slide or didn't acknowledge. But nothing would have satisfied Mr Baldeosingh,' he said.
Baldeosingh's letter to the editor stated that he drew the matter to the attention of the Guardian's editors, copying his e-mail to Charles. 'I received no response from the editors, but Mr Charles e-mailed me to say that he appreciated my diligence and that he had little excuse except that he was under deadline pressure. He also included a note in his next column admitting his error to readers', Baldeosingh stated.
He concluded: 'I found his apology unconvincingly, but I would have let the matter rest there, except I am now wondering what will happen when, as chairman of the Integrity Commission, Mr Charles finds himself under pressures rather more intense than writing a weekly newspaper column.'
Responding to this, Charles said: 'What can I say? Anybody who writes a column knows what the deadline pressure is. I feel it very often. Thank God I survive it because I find I have a lot of say at the last minute. The fact of the matter is that I acknowledged it both privately and publicly and told the President.' He conceded that no-one was infallible.
Citing the specific instances, Baldeosingh in his letter stated: 'I have kept files on two instances of Mr Charles's transgressions. In a column titled 'The colour of intelligence', published on December 24, 2007 in the Trinidad Guardian, he copied 300-plus out of 1,000 words (and took four of his seven arguments) from an op-ed piece in the New York Times written on December 9 by psychologist Richard E. Nesbitt. Most recently, on April 13, 2009, in a piece titled 'The financial crisis and ethics deficit', Mr Charles lifted virtually in toto a column written by Catholic scholar Darrin Belousek and published in America: the National Catholic Weekly on March 30′.