By Kit Klarenberg
April 3, 2022 – thegrayzone.com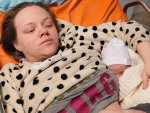 A key witness to the widely publicized incident at the Mariupol maternity hospital has punctured the official narrative of a Russian airstrike on the facility, and raised serious questions about Western media ethics. Meanwhile, news of a massacre in the city of Bucha contains suspicious elements.
On March 9th, shocking news of a deliberate Russian airstrike on a maternity hospital in Mariupol, eastern Ukraine, began spreading widely via social media and news outlets.

Fiery condemnation from Western officials, pundits, and journalists was immediate. Ukrainian President Volodymyr Zelensky, for his part, claimed the act was proof of the "genocide" Russia was perpetrating against the civilian population, and urged European leaders to condemn the "war crime" and "strengthen sanctions" to stop the Kremlin's "evil" deeds in the country. NPR suggested the attack was part of Russia's "terrible wartime tradition" of purposefully targeting health facilities and medics during conflicts, dating back to Chechnya.
But newly released testimony from one of the incident's main witnesses punctures the official narrative about a targeted Russian airstrike on the hospital. The witness account indicates the hospital had been turned into a base of operations by Ukrainian military forces and was not targeted in an airstrike, as Western media claimed. Her testimony also raised serious questions about whether at least some elements of the event were staged for propaganda purposes – and with the cooperation of the Associated Press.
The new testimony (watch below) comes on the heels of evidence strongly suggesting that the destruction of a dramatic theater in Mariupol on March 16 was staged by the Azov Battalion, and that nearly all civilians had evacuated a day before. And as we will see below, new reports of a Russian massacre of scores of civilians in the town of Bucha also contain suspicious details suggesting a pattern of information manipulation aimed at triggering Western military intervention.
Full Article : thegrayzone.com