By Anna Ramdass
May 19, 2015 – trinidadexpress.com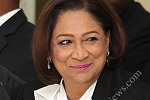 Prime Minister Kamla Persad-Bissessar last night declared victory following the Integrity Commission's termination of its investigation into emailgate.
She added this vindication was proof Opposition Leader Dr Keith Rowley was unfit to lead Trinidad and Tobago.

In a letter dated May 19, 2015, the Commission's registrar Martin Farrell wrote to the Prime Minister's attorney, Israel Khan, SC, stating that pursuant to Section 34 (6) of the act, the commission was "satisfied that there was no or insufficient grounds for continuing the investigation" into emailgate "and accordingly this investigation is hereby terminated".
Khan is the legal counsel for Persad-Bissessar and former attorney general Anand Ramlogan in the emailgate affair.
In its letter to Khan, the Integrity Commission pointed out it was unable to disclose information pertaining to its investigation, cited Section 35 of the Integrity in Public Life Act.
Full Article : trinidadexpress.com
~~~~~~~~~~~~~~~~~~~~~
Emailgate closed
The Integrity Commission has decided to close the emailgate affair, leading Prime Minister Kamla Persad-Bissessar to claim a major victory for her office.