Feature address delivered by the Hon. Prime Minister Kamla Persad-Bissessar at a Business Luncheon in Fort Lauderdale, Miami – Monday, July 12, 2010.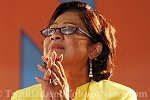 Good Afternoon Ladies and Gentlemen. It is indeed a pleasure to address you today, and I extend my sincere thanks to you all for granting me the opportunity to showcase the dynamic twin island Republic of Trinidad and Tobago, during my short stopover in Miami. As some of you may be aware, my visit to Miami follows in the wake of attending the 31st Caribbean Community (CARICOM) Summit which was held in Montego Bay, Jamaica last week.

Even as I speak to you this afternoon, I am reminded of a similar luncheon hosted by the Jamaican business community, in my honour, post Summit. On that occasion ladies and gentlemen, I highlighted the fact that "now is not the time for the regional business community to be combative. Rather we needed to join forces to impact in a sustainable way on the international scenario." Indeed I acknowledged that if businesses in the region are to be successful, three fundamental changes needed to take place:
— There must be innovative improvements,
— Alliances must be created between and among business communities, and
— Business partnerships must be established.
Today I bring that conviction to you along with the message that Trinidad and Tobago is ready for business; for your business. As I address you, I note that I am conversing with compatriots, other Caribbean nationals and many others who perhaps wish they were nationals of our beautiful Caribbean islands. In this regard, permit me a few moments to speak briefly about T&T as we frequently refer to our small nation.
Trinidad and Tobago, is in many ways, a unique small nation being the home of one of the oldest petroleum industries in the world. Oil was first produced commercially in 1908 and natural gas started being commercialised in 1953. For decades after commercial oil production began, Trinidad was the largest single source of what could be described as 'British oil'. When gas became more predominant from the fifties onwards, and once Trinidad and Tobago took the decision to establish a liquefied natural gas (LNG) industry, we quickly became the major natural gas supplier to the United States.
Trinidad and Tobago is extremely fortunate to be self-sufficient in oil and gas and to date our economy remains an energy based and driven economy. However the new People's Partnership Government of Trinidad and Tobago, which I am honoured to lead, fully recognizes our economy must be reconstructed because oil and gas are finite resources. We must build sectors which in the next 10 to 20 years will replace some of the income that we now derive from oil and gas. The non-energy sector is key to our diversification effort and the reduction of our dependence on earnings from the existing exhaustible energy resources which we now possess.
At the moment we are looking at our industrial downstream programme in methanol, ammonia and steel; and while these present significant areas for investment, we are also keeping a sharp eye on the industries that are now leading the world. Renewable energy and renewable energy research is one such new area we are keen to develop.
We are also looking at innovation and Cabinet has approved what we will call a National Innovation System Management. We want to make Trinidad and Tobago more competitive, more innovative in our current industries. Eventually we will be looking for new marketing and development opportunities and here we will seek to capitalise on the positive relationships we already enjoy with countries such as the United States, Canada and Australia; all of whom have companies presently operating in Trinidad and Tobago.
However ladies and gentlemen even as we look to the future, we are aware that the work of diversifying the T&T economy will take time before significant results are realized. Nonetheless as an investment option, Trinidad and Tobago is unparalleled in the Caribbean. I stated earlier that Trinidad and Tobago is ready for your business.
Why am I able to speak with such confidence about a small nation state? Simply put – we continually strive to be competitive in the global environment and investors in Trinidad and Tobago will enjoy access to other external markets. Currently there exist formal trade agreements between Trinidad and Tobago and Costa Rica, the Dominican Republic, European Union, Colombia and Venezuela. In addition, Trinidad and Tobago, as part of CARICOM is currently negotiating a Trade and Development Agreement with Canada, which is expected to be completed in 2011.
Trinidad and Tobago will also ensure that there continues to be the enhanced formal framework between Trinidad and Tobago and the United States of America to facilitate persons, like you, in America, wishing to do business in Trinidad and Tobago. To this end, we are happy that the Caribbean Basin Trade Partnership Agreement (CBTPA) has been extended until 2020. In the meantime we continue to work, as part of CARICOM to negotiate a Trade and Investment Framework Agreement (TIFA) with the USA to incorporate the area of services. This is expected to be completed by the end of 2010. A Bilateral Investment Treaty already exists between Trinidad and Tobago and CARICOM, a grouping of approximately 16 million people.
In addition a strong, stable democracy; skilled workforce; a vibrant financial system; duty exemption; tax free holidays; a one-stop approval office; our strategic location as a central transshipment point in the Western hemisphere; a real GDP growth of 8% over the last decade all combine to make T&T the destination of choice for the discerning investor. As we engage in some dynamic foresight planning, the People's Partnership Government has already identified several sectors in which we welcome and encourage investment. I am happy to inform you that the industrial policy detailing these elements is currently being prepared. Yet, right now I can tell you that business opportunities exist in the cultural and entertainment sector, ethnic products, food processing, the maritime industry, services industries, biotechnology, pharmaceuticals and food production. We have a number of projects, all local amounting to approximately one billion TT dollars ($TT1B) which are expected to be concluded within a month.
As well, Trinidad and Tobago is fast moving towards becoming a knowledge-based economy. If I may, ladies and gentlemen, I wish to highlight a project currently underway which comes under the jurisdiction of our Ministry of Trade and Industry and which offers significant investment potential in the information and communication technology (ICT) sector.
The Tamana Intech Park, located about a 45-minute drive from the capital city of Port-of-Spain and 10 minutes from Piarco International airport; is situated on one thousand, one hundred (1,100) acres of a former airbase at Wallerfield in the East Trinidad. The Park is poised to be a world-class, state-of-the-art science and technology park and a central location for established and emerging companies in sectors such as information and communication technology (ICT) software development, high-tech manufacturing and agro-processing. Tamana will offer investors flexibility in accommodation, including a build-to-suit option. Phase 1 of the Tamana Intech Park is scheduled for a soft opening later on this year.
Ladies and gentlemen, there is no denying the fact that the economy of Trinidad and Tobago witnessed negative growth due to the global economic downturn. Indeed our economy experienced a contraction of about 3% in 2009, as a result of the global crisis which adversely impacted commodity prices inclusive of oil and natural.
However I understand that just last week the Chief Executive Officer of a large Financial Group, which is a major player in the financial sector in Trinidad and Tobago and the wider Caribbean region, expressed optimism about commodity-based economies like Trinidad and Tobago. He believed that T&T should go back to positive economic growth next year and relative to the rest of the world, Trinidad and Tobago is still in very good shape. At the Government level our projection is a return to positive growth by the end of 2010. Our medium term ambition, ladies and gentlemen, is to weather this period and for the non-energy sector to come out stronger than before.
My friends, and I feel quite comfortable calling you all friends, for I know that in the not too distant future we in Trinidad and Tobago will enjoy meaningful partnerships with many of you. My friends, at the recently concluded 31st CARICOM Summit, which was my first Summit as the newly-elected Prime Minister of Trinidad and Tobago, I signaled that there was going to be a change in the way the new Trinidad and Tobago administration interacted with its CARICOM counterparts.
I indicated that Trinidad and Tobago remains committed "to widening and deepening the regional integration process within the Caribbean Community." However as an organization in its 37th year of existence, CARICOM must take a critical look at the challenges which it faces from the external environment and their impact on regional development. In some quarters it was felt that T&T had adopted a hardline approach to funding certain projects and programmes; but we believed that previous promises perpetuated dependencies rather than promoting accountability, responsibility and independence.
As business leaders, you no doubt understand the need for financial constraint and prudence in harsh economic times. Instead of expanding plant, hiring new people and adding more product lines, many stick with what you have and trust necessary will flow from these lines. Others may take the bold step to diversify, develop new lines or expand into a new market, yet nothing is done without risk analysis and astute projections.
So too the People's Partnership Government of Trinidad and Tobago has assessed its stance on CARICOM relations and also our ability to provide a political, social and economic environment that would mutually benefit investors and our twin-island Republic.
In this regard, we are laying out an approach which will involve a network of aggressive trade and business representation, in key external markets, as we seek to facilitate enterprises desirous of conducting business in Trinidad and Tobago. We are also improving the efficiency of the domestic business environment through the implementation of a Single Electronic Window. This project will speed up approvals and reduce costs by doing business through e-services. We believe that is absolutely essential to quickly facilitate the entry and establishment of new businesses.
Certainly the global economic downturn brought into sharp focus the interconnectedness of world economies; small Caribbean economies intersect with the rest of the world and indeed they are quite easily affected by adverse conditions. Today, however, I challenge you to allow that convergence of economies, with respect to Trinidad and Tobago, to be one which promotes prosperity, facilitates innovation, creates wealth and improves the standard of living for all our citizens.
Our interest is in building a solid public/private partnership as we move forward with our plans for the people of Trinidad and Tobago, as this is integral to our strategy for the development of our country. As we roll out our plans there is ample room for both domestic capital and international capital. We therefore encourage international capital as a key input into the rebuilding of our economy.
Ladies and gentlemen, I thank you for attention.