By Norman Girvan
July 14, 2010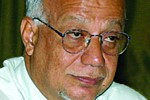 It is with great sadness, and a sense of tremendous loss, that the Caribbean economics fraternity has learnt of the passing of Professor Dennis Pantin, former chair of the Economics Department and Coordinator of the Sustainable Economic Development Unit at the UWI, St Augustine.

Dennis Pantin was one of the most brilliant, original and public-spirited economists to come out of the Caribbean region. His contributions to economic analysis and policy in the subject areas of resource-based industrialisation, debt and structural adjustment, industrial policy, development policy, and above all sustainable development; have made a permanent mark on the intellectual landscape of Caribbean economics.
Among his many distinguished publications, the monumental, 744-page Reader in Caribbean Economy that he edited in 2005 stands out as the required sourcebook on the subject across a vast range of theoretical and policy issues; and is living testimony to his comprehensive and holistic approach to the problems of Caribbean economies.
Dennis was an exemplar of intellectual leadership and institution-building. His vision and energy in founding the Sustainable Economic Development Unit at the UWI St. Augustine have bequeathed to us an institution of inestimable value to the entire region. SEDU's research and publications continue to enlighten us in responding to the problems of environmental degradation, natural disasters and global climate change. Dennis himself made several notable contributions to the field; and his Professorial Inaugural Lecture, in which he proposed that small island developing states should seize the opportunity to establish models of sustainable development as an example to the world community, will be remembered as a seminal and inspirational statement.
As Chairman of the Economics Department at UWI, Professor Pantin led the charge to make the economics curriculum, postgraduate training and Departmental research relevant to the needs of Trinidad and Tobago and the wider Caribbean region. Under his stewardship, the Department played a decisive role in making the annual Conference of the Economy a forum of highly professional, independent and critical analysis of the problems and policy issues affecting the Trinidad and Tobago economy.
Dennis Pantin was also profoundly convinced that only through regional integration could the Caribbean experience true economic development. His research and public discourses were strongly regional in orientation; and he was one of the leading figures in the Association of Caribbean Economists for over twenty years, serving as Vice President for the English speaking Caribbean.
Professor Dennis Pantin was, above all, a public intellectual who recognised the limitations of confining oneself to established disciplinary boundaries in the search for solutions. His work in the founding of the Constitutional Reform Forum in his native Trinidad and Tobago sprang from his conclusion, reached after years of policy advocacy, that if better economic policies were to be adopted, politics and governance had to be made more democratic, participatory, transparent and accountable. This is confirmed by recent developments in our region.
Dennis was a valued personal friend as well as professional colleague. We shared a love of Caribbean culture — of Pan and Calypso and all the other cultural creations of the folk of the region that was our common home. To be at J'ouvert with Dennis was to celebrate our common heritage with pure undiluted joy.
In mourning our collective loss, while giving thanks for Dennis's contributions during his all too brief stay with us, we of the Caribbean economics fraternity extend our deepest sympathy to his wife Yolande; his children Mariel, Machel and Gabrielle, and to all the other members of his family.