In a moment of candor, Joe Biden has revealed why the U.S. needed the Russian invasion and why it needs it to continue, writes Joe Lauria.
By Joe Lauria
Special to Consortium News
March 27, 2022 – consortiumnews.com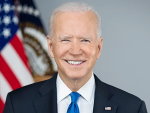 The U.S. got its war in Ukraine. Without it, Washington could not attempt to destroy Russia's economy, orchestrate worldwide condemnation and lead an insurgency to bleed Russia, all part of an attempt to bring down its government. Joe Biden has now left no doubt that it's true.
The president of the United States has confirmed what Consortium News and others have been reporting since the beginnings of Russsiagate in 2016, that the ultimate U.S. aim is to overthrow the government of Vladimir Putin.
Continue reading Biden Confirms Why the US Needed This War →