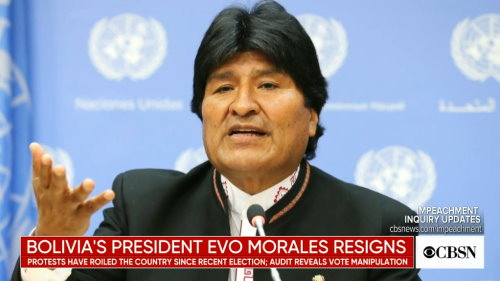 By Alan MacLeod
November 11, 2019 – fair.org
Army generals appearing on television to demand the resignation and arrest of an elected civilian head of state seems like a textbook example of a coup. And yet that is certainly not how corporate media are presenting the weekend's events in Bolivia.
No establishment outlet framed the action as a coup; instead, President Evo Morales "resigned" (ABC News, 11/10/19), amid widespread "protests" (CBS News, 11/10/19) from an "infuriated population" (New York Times, 11/10/19) angry at the "election fraud" (Fox News, 11/10/19) of the "full-blown dictatorship" (Miami Herald, 11/9/19). When the word "coup" is used at all, it comes only as an accusation from Morales or another official from his government, which corporate media have been demonizing since his election in 2006 (FAIR.org, 5/6/09, 8/1/12, 4/11/19).
Continue reading The Bolivian Coup Is Not a Coup—Because US Wanted It to Happen →