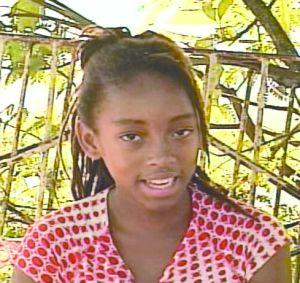 NO DREADLOCKS
By Corrine Allahar
Trinidad and Tobago
Almost a decade ago, three young Muslim girls were denied entry into secondary schools, and in what appears to be a similar situation, another young girl, 12-year-old Kalifa Logan, is being denied entry to St Charles High School in Tunapuna, because of her "dreadlocks." Speaking to Newsday yesterday, the girl's distressed mother Lynette Marshall said that one week before her daughter was due to start school, she called the school to get information on the school uniform. She said it was then that school principal, Sister Adrianna Noel, requested a meeting with her. Marshall said she was told that her daughter would be unable to attend the school because her dread locks were not in keeping with the school's dress code, or its policy. When Newsday contacted the school yesterday, principal Sister Noel said she was aware of the situation and admitted that the teen was denied entry to the school because of her hair.
Alluding to the dreadlocks hairstyle, the principal said that in the past this has been a trend among students at the school, and as a result the school has been forced to clamp down on such behaviour as the "child should show a type of moral behaviour." The principal said she had no problem with the child being a "member of a certain cult," but also said that as a private institution, the school reserved the right to determine who should be allowed in. She said that nowadays, "every little fly is doing what they want," and that was not in keeping with the strict discipline and conduct codes at the school. To reinforce her stance, the principal even cited a Newsday article from September 10, where schools and workplaces were enforcing stricter dress codes. She then blasted Newsday for entertaining the story of the young girl, after running a story on dress codes only a few days before. Although the principal says the school is a private one, Government pays for some places in the school. Despite this, she was adamant that the locks were a "disciplinary problem."
When questioned about how a 12-year-old child, who has not even started attending the school, could pose a disciplinary problem, the principal maintained that the school operated according to certain guidelines. This is not the only incident in which young girls were being denied entry into schools according to mode of dress, however. Similar incidents occurred in 1994, when Sarah Ali and Summaya Mohammed, of St Joseph's Convent St Joseph, and Holy Name Convent, respectively, were told they were breaching the school's dress code because they wore a hijab. During the time of those cases, then chairman of the Hijab Schools Committee, Faiz Amin, said, "If a rasta wants to wear his hair like that, then it is his right if he can prove it is part of his religious practice." However, Logan is not being allowed this privilege despite the fact that the constitution outlines the rights of individuals, clearly stating that there should be "freedom of conscience and religious belief and observance."
Section 15 (2) of the Equal Opportunities Act also states that no educational institution should discriminate against a student by denying or limiting that student's access to any benefits, facilities or services provided by that establishment. Sister Noel did say, however, that she was working with the child's mother, in an effort to place the child in another school. As Logan's mother revealed, however, the transfer process was a "runaround," as she is being told that all schools are filled, and the only school that is available is Five Rivers Junior Secondary. Marshall is refusing to send her daughter to a three-year school as she says that St Charles' is a five-year school and if her daughter is to be transferred, then it she should be to another five-year school.
When the Office of Education Minister Hazel Manning was contacted, no such reports had been received. Efforts to reach communications officer at the Education Ministry, Mervyn Crichlow, were greeted with a full message box. The girl's mother, Lynette Marshall, said that since her daughter was denied entry to the school, she has not been reimbursed her $400 that was paid for registration. She also said that the school still has her daughter's personal records. Marshall said that she is pursuing legal action, as both she and her daughter are frustrated that Logan has to stay at home while other students are at school.
http://www.newsday.co.tt/stories.php?article_id=20558