By Dr Selwyn R. Cudjoe
March 09, 2019
"The lesson that Kim Jong-Un has learned [is this]: If you give up your weapons, American will kill you."

—Daryl Kimball, Executive Director, Arms Control Association.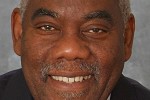 Basdeo Panday once said famously: "Politics has a morality of its own." As one looks at the unfolding of the political atmosphere in the United States, one can't help but reflect on Panday's prescience. Panday's insights were not original, but he uttered a truth that is being played out in the U.S. today.
On Wednesday, as President Donald Trump was meeting with Kim Jong-un, North Korea's leader, about the prospect of taking steps toward nuclear disarmament in North Korea and other measures to ease tensions in the Korean peninsula, Michael D. Cohen, Trump's former personal lawyer, was pouring his guts out about the president's amoral actions before and after he attained the presidency.
Continue reading The Morality of Politics →